About
Posthumous cast by Valsuani using lost cast technique. 1968. A certificate from Mrs. Liliane Colas dated April 4, 2018 will be provided to the purchaser.
The White Bear by François Pompon is the main piece of artwork representing the Animalier era popular in the beginning of the 20th century. In 1922, it was part of the exhibition at the Salon d'Automne and experienced a true success. Among its many admirers, Colette was ecstatic at «the surprisingly small head and the sharpness of the snout made for piercing ice-congested waters».
The amazingly modern-looking piece of artwork differentiates itself from other realistic sculptures from the 19th century because of its smooth and refined aspect. After years of reflection, it also represents Pompon's emancipation process. Leaving the human body behind, Pompon started to get inspired by animals. He made sure to hide any realistic indications of natural fur in favor of a round overall shape. The impression of movement is emphasized by the lack of details and the smooth surface.
The full-scale bear has been made from a piece of white marble. Pompon focused on recreating the impression of movement; the 2.45-meter long sculpture is impressive because of its imposing appearance making it look alive. The bear clearly shows a momentum as well as an authentic sensation of vitality. Its almost imperceptible muscles seem to be moving.
François Pompon is still considered as a pioneer as opposed to Constantin Brancusi. He preached what he believed was important meaning the subject matter and material without having to use popular unstructured shapes of ultramodern sculpture.
The Polar Bear has nothing to do with abstract sculpture but is rather a synthesis of forms and shapes. Pompon gave the animal the most natural aspect possible. By not allowing superfluous things, he managed to reach its purest essence.
Following its incredible success, the Polar Bear has been reproduced at many occasions in various sizes and materials such as bronze, stone or faience. Since 1986, the original version is exhibited at the Musée d'Orsay in Paris.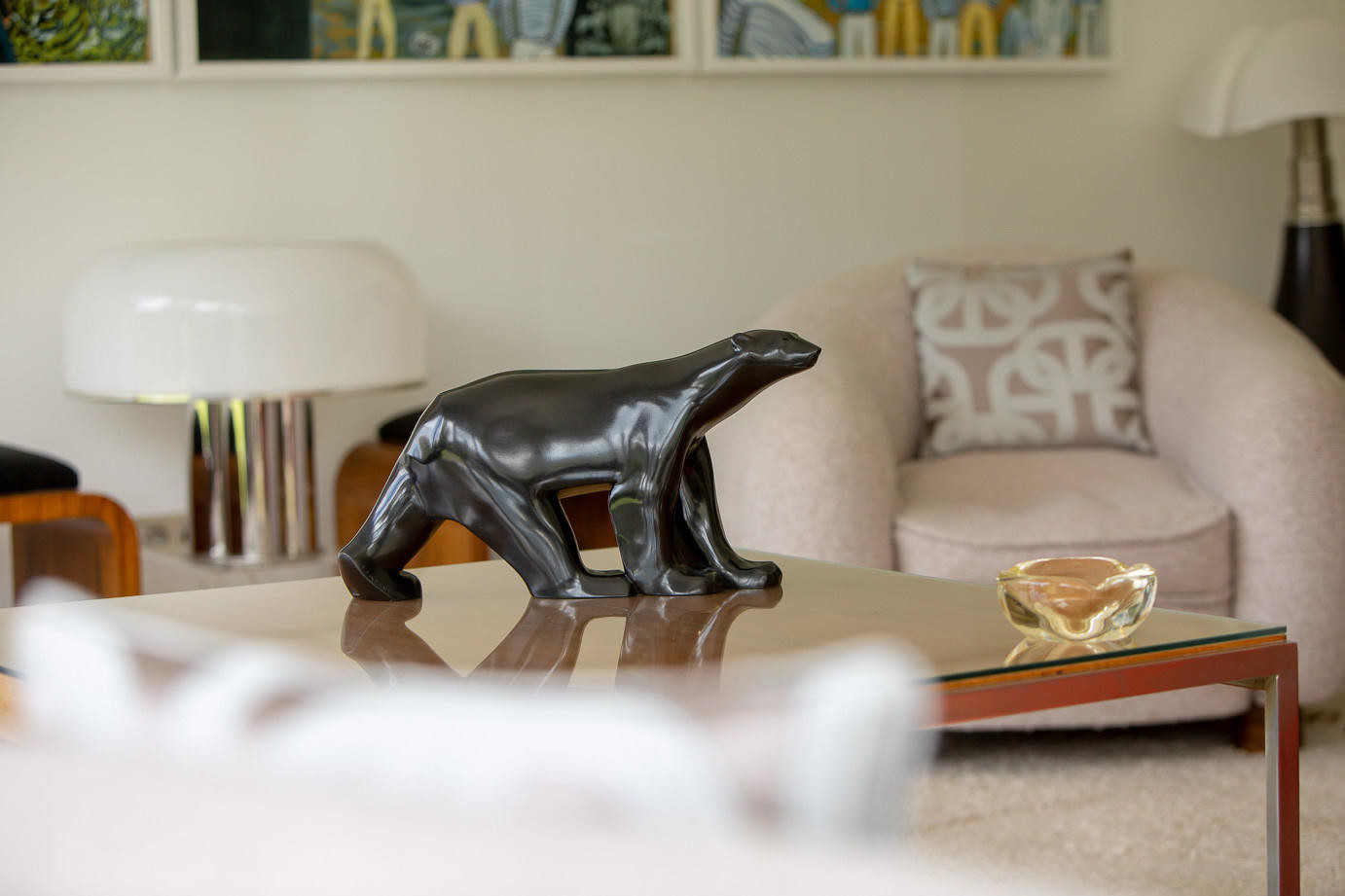 Characteristics
Year: 1968
Origin: France
Designer: François POMPON
Material or technique: Bronze
Sizes: 44.5 x 25 cm (Length x Height)
Conservation status
Perfect condition
Bibliography
Catherine Chevillot, Liliane Colas & Anne Pingeot, François Pompon, Gallimard Electa - RMN, Paris, 1994, similar model number 122-C (straight legs do not touch) p. 211. Reproduced in catalogue raisonné n°122-D.