About
This specific piece of artwork comes from a private collection and has been certified by Modigliani's daughter, Jeanne, in 1970. A certificate of authenticity from Maître Olivier Marquis, auctioneer, dated Mars 5, 2020 will be provided to the purchaser.

With signature 'Modigliani' (on the back of the neck); numbered and stamped with the foundry mark 'MJ2 (exemplary Jeanne Modigliani) C.Valsuani Cire Perdue' (on the right side of the neck).
Amadéo Modigliani was mostly known as an impressionist painter. He was born in 1884 in Italy and died at the age of 36 in France. He did not get into sculpture until 1909, following advice from his friend, Paul-Alexandre. For four years, he fully dedicated himself to this art creating 25 different sculptures. He preferred stone carving because he believed it was a way to get a shape out of mass.
During this time period, he discovered African and Cambodian art. Just like many of his sculptures, Tête de jeune fille à la frange, «Head Of A Woman With A Fringe», had been inspired by ethnic African masks. Almond-shaped eyes, tiny mouth, thin and long nose as well as a long neck are all physical attributes that one can find in all of Modigliani's artwork. They reflected his inspiration and became his signature as well as the expression of his feelings.
From 1916 to 1920, Modigliani used the famous "infinite look" meaning deep and mysterious eyes representing victorious serenity and leading men to surpassing themselves.
The Tête de jeune fille à la frange is a bronze sculpture made from a stone carved by Modigliani himself. It is a posthumous brown patina bronze made using the investment casting technique by the Valsuani foundry.
The original sculpture belongs to private individuals but two other copies were made. One is part of the permanent exhibition of the Peter Stuyvesant Foundation in Johannesburg and the other had been exposed during a temporary exhibition in Tokyo between 1992 and 1993.
A painting by Modigliani also has the same name but is sometimes referred to as Femme assise à la robe bleue. It was painted between 1918 and 1919.
The sculpture is believed to have been made from a stone dating back to 1910 or 1912 and reproduced in the Catalogue raisonné de l'oeuvre de Modigliani. It has been signed by the artist in the back of the neck and has the foundry's seal on its base as well as the reference number MJ2 which stands for Jeanne Modigliani.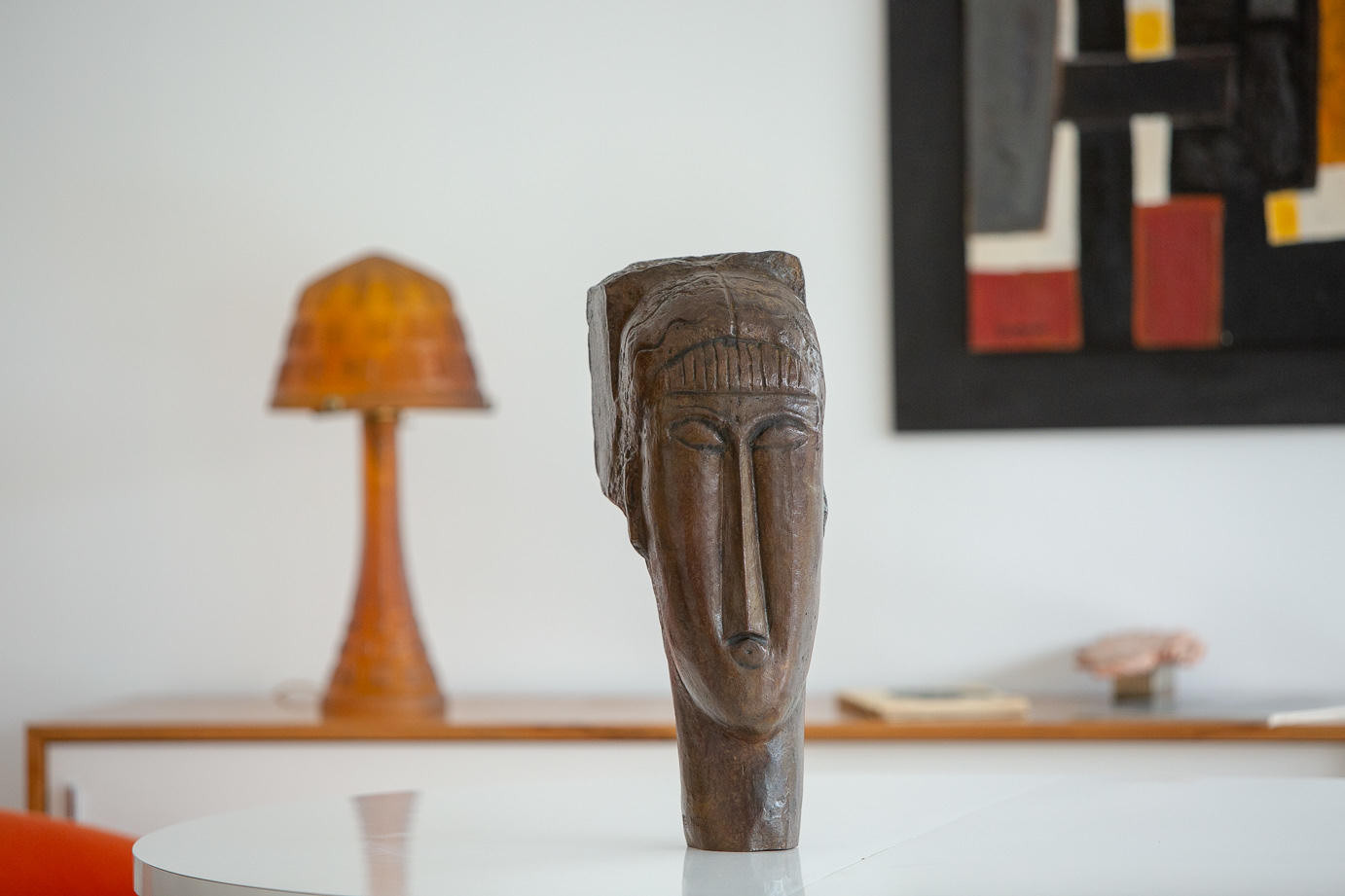 Characteristics
Time: 20th century
Origin: France
Artist: Amedeo Modigliani
Foundryman: Valsuani
Material or technique: Bronze
Height: 48.5 cm
Conservation status
Perfect condition
Bibliography
Lanthemann « Modigliani » catalogue raisonné 1970 n°633.