About
Signed bronze with "E.A. X/X" (épreuve d'artiste in French) and Régis Bocquel, France, Art Foundry seal. This work is recorded in the Arman Studio Archives New York under number: APA# 8401.96.001, and a certificate from Arman Committee of New York dated November 18, 2020 will be provided to the purchaser.
This is a piece of work by Armand Fernandez (1928-2005), simply known as Arman, a painter and sculptor.
Along with his friend, Yves Klein, he is considered one of the inventors of New Realism in the 60's. He is known for stacking 80 tanks in Beirut, burning pianos and blowing up convertibles.
From 1959 to 1970, he launched an art series known as Accumulations. In 1961, he started another one, known as Cuts, which includes the Mi-Siren. These were made with a blowtorch or even a saw. He would also chop down violins and motorcycles in length in order to insert them in pieces of furniture disposed in slices.
As opposed to Accumulations, Cuts series were made out of high-quality materials. The statues resulting from the experience look like surrealist sculptures and are sometimes compared to Dali's drawer statues.
Regarding his own work, Armand said: « In the need to hoard, I can see there is also a need for security. When it comes to destruction, there is a will to stop time. »
The Mi-Siren now belongs to Mrs. Denyse Durand-Ruel, widow of Mr. Philippe Durand-Ruel, both collectors since the early 60s. Today, she is famous artists' greatest archivist.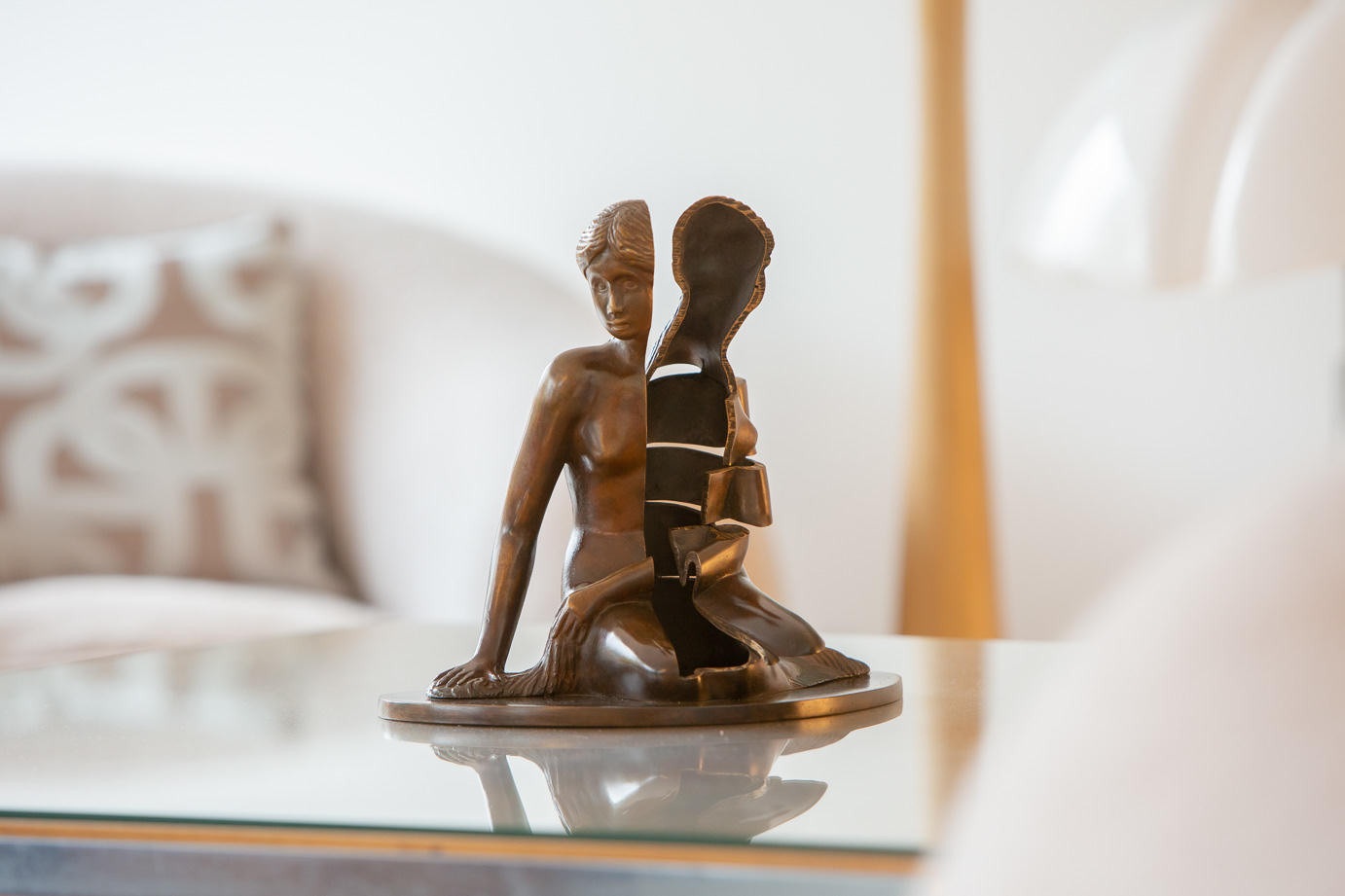 Characteristics
Time: 20th century
Origin: France
Artist: Arman
Foundryman: Bocquel
Material or technique: Bronze
Sizes: 26 x 0 cm (Length x Height x Depth)
Bibliography
This work is listed in the archives of Mrs. Denyse Durand-Ruel under reference number 6786 and also at Arman Studio, New York under reference number APA # 8401.96.001 with the help of Ms. Corice Arman.