About
A gilt bronze on a black marble base signed Dali on the bottom of the horse's right rear leg, inscribed DALART N AG-24 TEATRO MUSE DALI under the small clock on the stick, the publisher's mark © Camblest and the date 1981 under the belly of the horse and numbered 131/350 on the left side under the saddle with the mark of the Venturi Arte foundry. A certificate of authenticity from Maître Olivier Marquis, auctioneer, dated Mars 5, 2020 will be provided to the purchaser.
Salvador Dali is a famous Spanish artist born in 1904 and who passed away in 1989. If he is mainly known for his paintings and sculptures, he was also a writer, scriptwriter and engraver. He is one of the main representatives of surrealism.
The clock is the most famous symbol of Dali since The Persistence of Memory (1931), better known as the Melting clocks. The clock as a saddle illustrates the author's concern for time and recalls the ephemeral nature of existence. Indeed, Dali was very anxious about the inexorable advance of time and death and this work reflects these anxieties.
This sculpture also illustrates the contrast between hard and soft and the tenacity of time and its flexibility. Indeed, the watch with melting gussets makes a mockery of the rigidity of time. Dali says that he got the idea for these soft watches when he looked at a camembert melting on a tray during a meal.
The horse is also a symbol that is regularly found in Dali's works. An exhibition was even dedicated to them: Dalinean horses. Here, the moving horse is in opposition to the frozen time.
In this work, the horse is inserted into a black marble base and the latter, as well as the saddle and small stick, can be removed separately. This work dates from 1951 and the design of the sculpture was conceived in 1980 and cast by Venturi Arte in 1981. Created from drawings and models, this sculpture is one of Dali's works that have been published in several editions.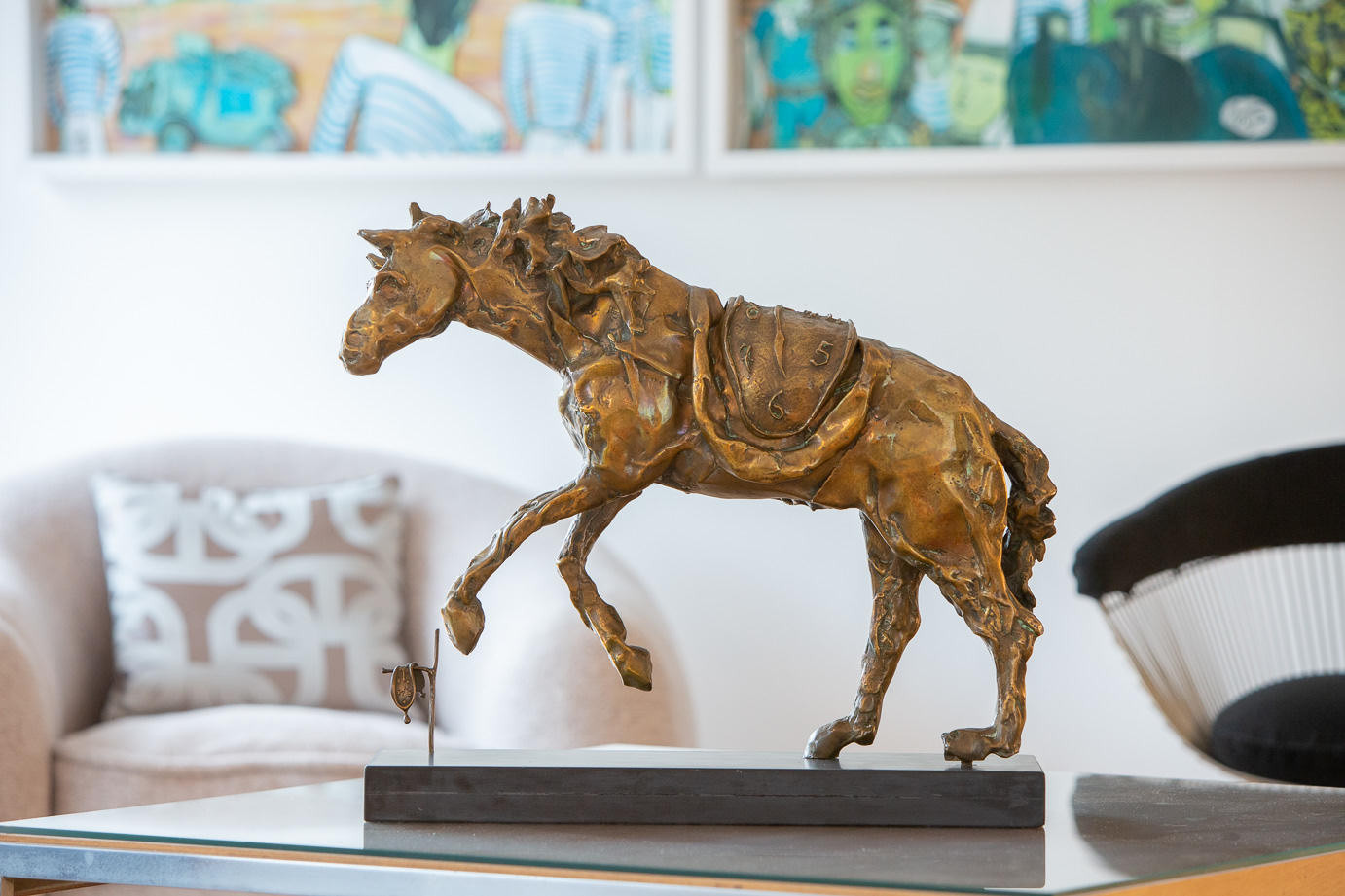 Characteristics
Year: 1981
Origin: Spain
Artist: Salvador Dalí
Material or technique: Golden bronze
Sizes: 52 x 0 cm (Length x Height x Depth)
Bibliography
Robert et Nicolas Descharnes, « Dali, sculptures et objets, Le Dur et Le Mou », éditions Eccart, 2004. Autre version reproduite et répertoriée p. 252, n° 650.
R. & N. Descharnes, Dalí - The Hard and the Soft - Spells for the Magic of Form - sculptures and objects, Azay-le-Rideau, 2004, no.650 (another version illustrated p.252).