About
This desk, from the Regency period, is decorated with a lush Boulle style marquetry. The inlay is mainly made of brass and Caret type scales, named after the Caret turtle, which is one of the only ones whose scale has the qualities suitable for the arts.
It is colored red in the frames and the rich and flowery drawing is dotted with grotesques, fantastic animals, birds, insects, cherubs and garlands in a rich and animated network of scrolls and arabesques with foliage and characters.
This drawing is based on the work of late 17th century ornamentalists Jean Bérain and Claude Audran III.
In the heart of the inlay of the platform bordered by an ingot mould, two musicians and a juggler on an entablature, under a canopy supported by sunflower dancers. On the sides, a central bunch of flowers with a dog and a monkey holding insects by ties.
This unit has a central drawer, a door and two side pedestals on the front, each containing three drawers.
The late 18th century curved trampling, made of courbaril veneer with a bronze effect, ends with a leafy hoof.
The talented cabinetmaker, author of this office, inscribes his work in the copper and flake marquetry tradition developed by André-Charles Boulle, with a particularly refined decoration based on arabesques.
This office is to be compared to Nicolas Sageot's office in the Royal Swedish collections. There is the same central scene with three characters under a pavilion, on each side, a small scene shows us a theatre character. All around is a very well-structured decoration of scrolls, with characters, animals and flowers.
On this desk, the cabinetmaker turns into a painter, in this free and dreamlike setting animated by dancers and fantastic animals.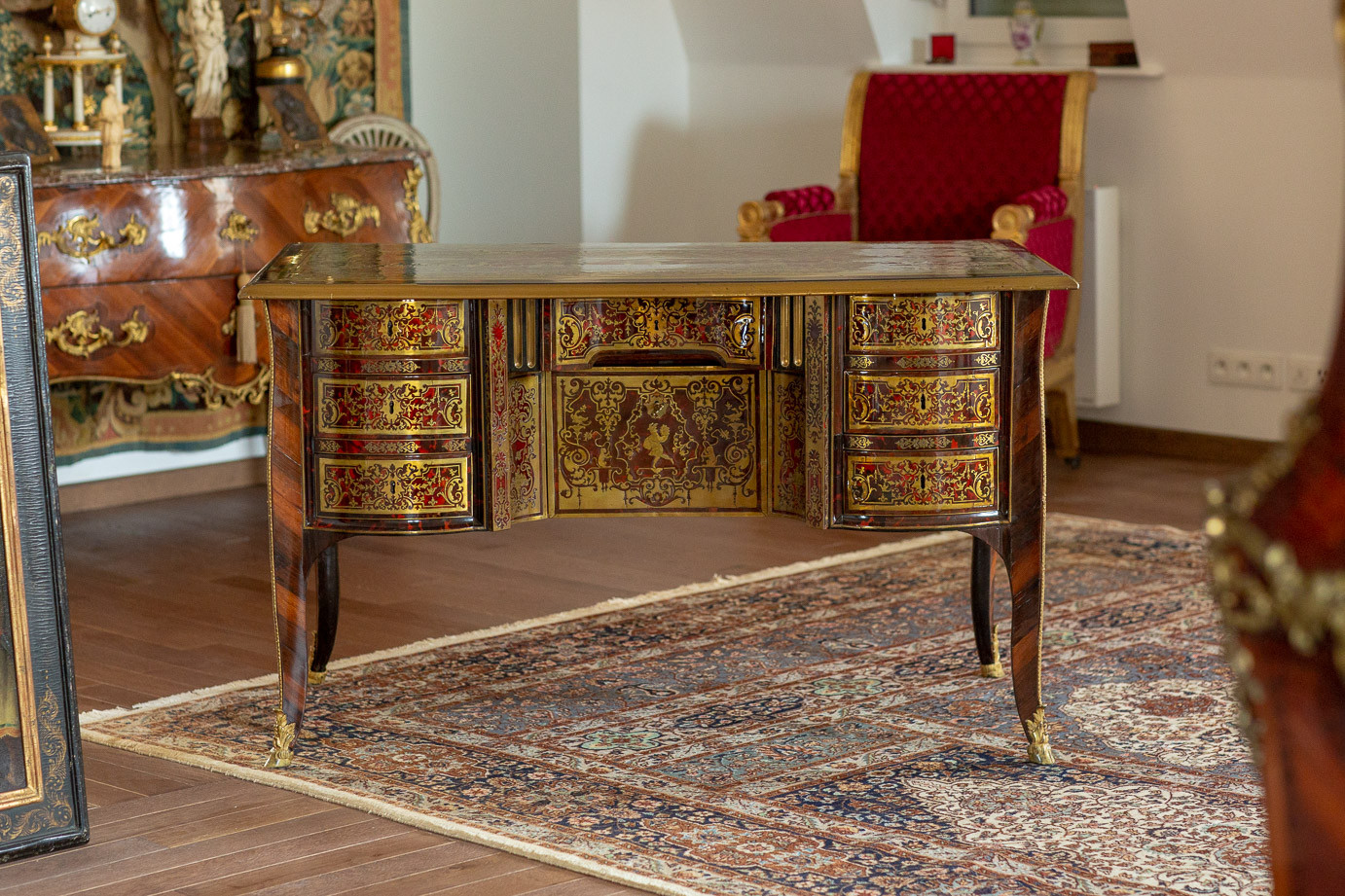 Characteristics
Time: 18th century
Origin: France
Artist: Attr. to Nicolas SAGEOT
Material or technique: Marquetry
Sizes: 133 x 82 x 71 cm (Length x Height x Depth)