About
Pair of «iron» plates with repelled and finely carved decoration, enhanced with gold and silver, embossed, representing Henri IV and Marie de Medici in a bust.
The chasing is very thin, the conventional portraits are very similar. The gold damascene is particularly beautiful on the foliage of Henri IV's cuirass.
During the reign of Henry IV, the number of coins and medals representing sovereigns increased. A large part was carved by Guillaume Dupré.
On the National Museum of Renaissance site at the Ecouen Castle, we can read:
«First ordinary sculptor of the king, (1606) Dupré was appointed as general inspector of coins effigies and general commissioner of artillery castings in France. His special status gives him privileges: he can work with precious metals. He was also entrusted to produce statues of the king's relatives.
This work was created using techniques specific to armoury and goldsmithing. The iron is cold hammered, worked on the reverse and inlaid with gold. The laurel wreath, the cross of Saint-Michel and the shield decoration, symbols of sovereignty in the Renaissance, stand out clearly against the dark background.»
Our two plates are the only known example to date.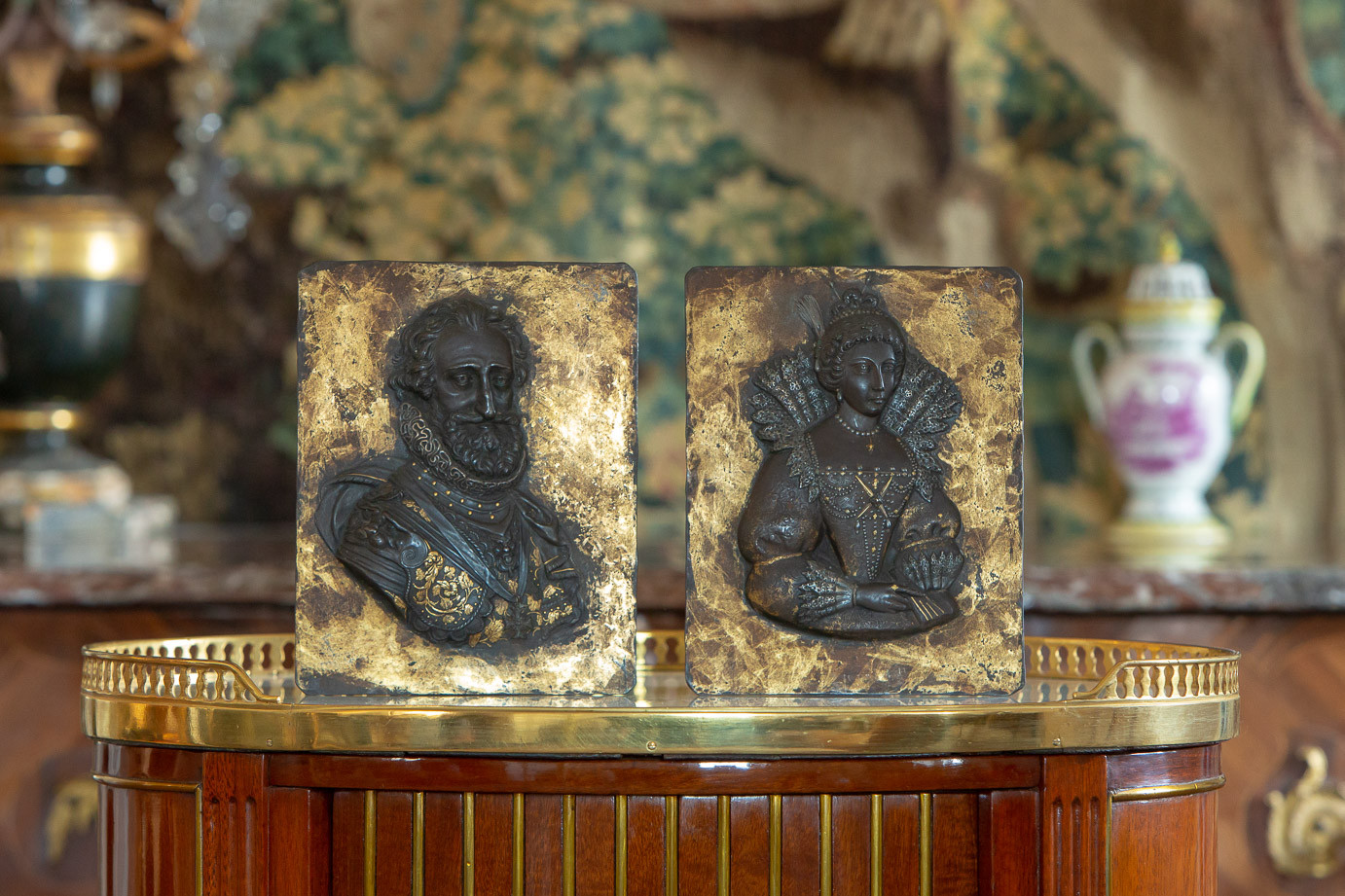 Characteristics
Year: 1606/1610
Origin: France
Sculptor: Attr. to Guillaume DUPRÉ
Material or technique: Iron
Sizes: 14 x 18 cm (Width x Height)
Museography
The Metropolitan Museum of New York exhibits in its French Medals and Sculpture gallery, 1600-1700 (Gallery 532), an identical plate of Henri IV also attributed to Guillaume Dupré, but with less fine and less precise gold chasing and damastication qualities compared to the one we are exhibiting to you.
The National Renaissance Museum at the Ecouen Castle (France) also has in its collections an iron plaque enhanced with gold and silver from the bust portrait of Henri IV attributed to Guillaume Dupré and dated 1606.