About
This oil on canvas entitled «Mother and child» during the exhibition of works by Robert Noir at the Devambez Gallery in November 1918 was painted between the years 1912/1918.
Indeed, his first works were signed «Ernest Noir», and after 1912, they were signed »Robert Noir». This painting belongs to the series of representations of «little people». Like Steinlein, Robert Noir was mainly interested in the expression of the human being. Here, he emphasizes the barely veiled weariness of a young mother. The soft pallor of the mother's and f the child's face balances the intensity of grey and black. It is not misery that wins. The mother is in a low-cut dress, a scarf tied around her neck, and shows contemptuous self-confidence to the viewer that she does not even look at. Robert Noir used an extremely dark palette here that is quite unusual for its black cast. It is the last moment of the day which is drawing to an end: however, the night seems already fallen depriving the artist of the distinct representation of the characters.
«Robert Noir, in many ways of his inspiration and his talent, seemed to me to have the same concerns as me in Art. Even if Robert Noir and I are significantly different in the conclusions to draw, the same aspects of human misery and suffering move us both. And I believe that there is in us a common fund of pity and rebellious sensitivity.
Many lamentable silhouettes, many sorrowful and desolate faces in the mud, the cold, the haze of the streets, in the city or at the equivocal crossroads and the sinister places of the countryside overwhelm us. So, Robert Noir focused on defining the most moving and dramatic expressions.
Robert Noir is convinced, for example, that each painting, according to what it wants to express, must have its particular colour and execution, if it is to obtain its maximum effect.
This is a rule he has set for himself. Most painters can only paint one kind of picture and even, in short, only one painting in their entire life, because they are locked into a single formula. This formula does not allow them any freedom in design. They are prisoners of it.
Robert Noir thinks that life and nature use all means to express themselves and that we can imitate them in their variety of expressions.
It is therefore a design, the mark of a long thought-out and premeditated will.
As a result, his canvases and cartons are often of a different execution from one to another.
Besides, I imagine that Robert Noir painted harsh and rough subjects with a sort of violence, out of natural horror of the agreed, the candy and the candy box.
What still strikes me as remarkable in his work and uncommon is his sense of the tragic and the comic that are intimately mixed.
Life strikes her as one big, clownish and sinister Carnival, which it is most often.
When one has observed others and oneself well when one has fought and suffered well, one can only feel a great tender pity for human illusions, and one comes out of there quite disenchanted.
Sometimes, in his works, the tragic prevails over the burlesque. This is undoubtedly a matter of temperament, of moment, of sensitivity, of the very duration of an illuminating stroke of light, for the space of a second, a Being or a Landscape from which we receive an emotion that will never be erased.
And this total understanding of life in all its aspects, of the life that he paints with simple and direct means in a harmony of tones and very precise movements, makes Noir's work deeply moving for me.» (Extracts from the preface to the exhibition of works by Robert Noir at the Galerie Devambez by Jehan Rictus, whose real name is Gabriel Randon de Saint-Amand (1867-1933), a French poet famous for his works composed in the language of people of Paris of his time)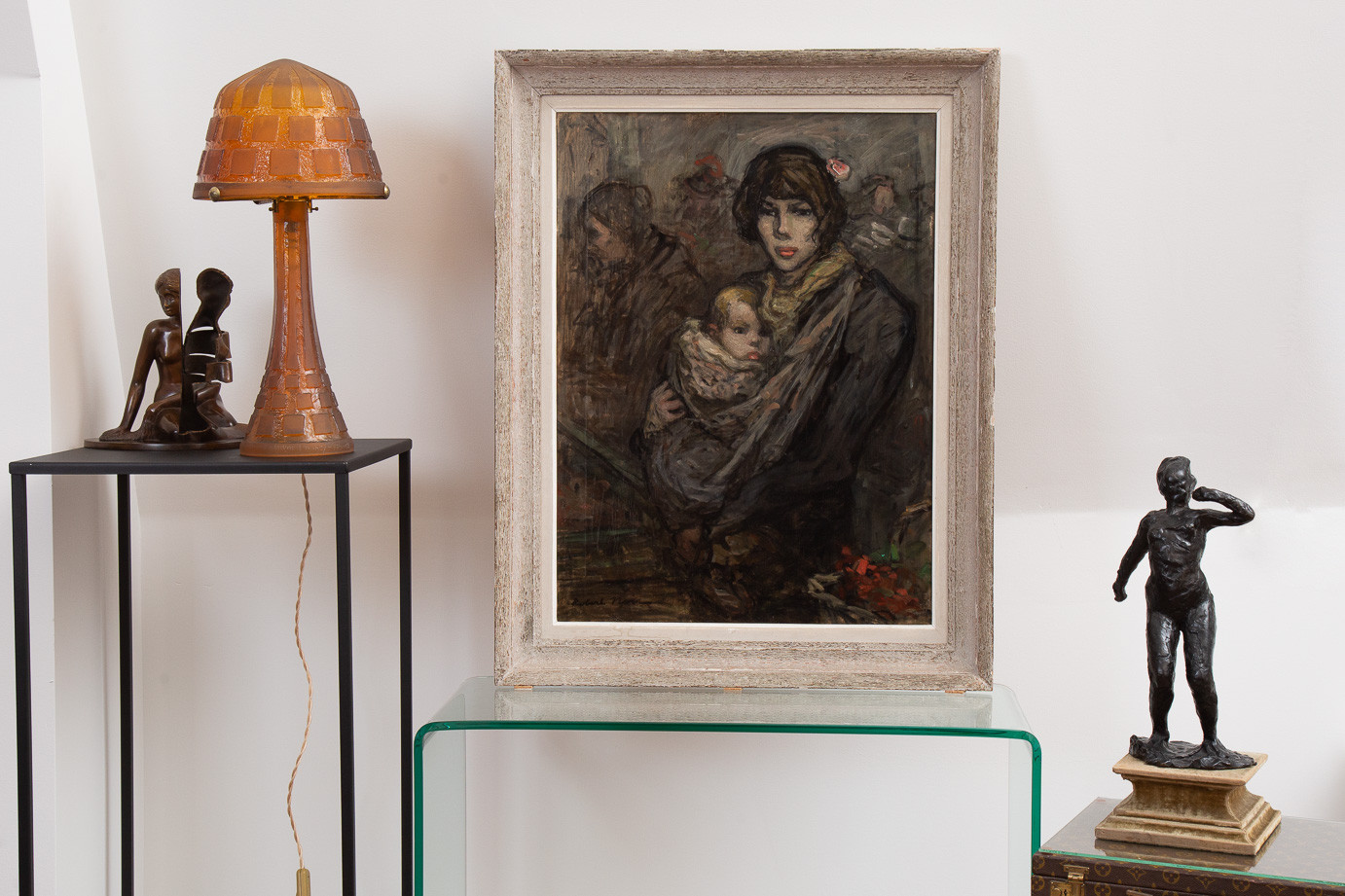 Characteristics
Year: 1912/1918
Origin: France
Artist: Robert Noir
Material or technique: Oil on canvas
Sizes: 54 x 73 cm (Width x Height)
Provenance
Exhibition of works by Robert Noir from November 7 to 21, 1918, Galerie Devambez, Paris, catalog no. 35.