About
Oil on cardboard signed lower right «Creixams» and entitled, located and dated on the back «VILAIN, the second (painting) of my career - Creixams – In the small hotel of the street Fossés Saint Jacques 1921».
The only son of a poor family, Pere Creixams was born on 9 November 1893 in Barcelona: «I come out of the pavement, the Mediterranean pavement...». In 1906, following the death of his father, he lived with his mother. He took on a series of odd jobs and later became a printer. In the evenings, he attended a mixed, secular school La Escuela Moderna (the Modern School) founded in 1901 by the Catalan anarchist Francisco Ferrer, whose libertarian pedagogy had an enormous impact throughout Europe. Créixams said he had learned to read from «red and anarchist books».
At the age of 17, his burgeoning passion for theatre led him to enter the conservatory of the great Liceu theatre in Barcelona. During a theatre tour, he met the French actor Lucien Guitry who advised him to go to Paris.
He arrived in Paris in 1916during a very unfavourable social and historical context. To describe this difficult daily life, as a purely self-taught artist, he started drawing, showing great mastery of line and perspective. He recounted that he had squatted at La Rotonde, a Parisian café in Montparnasse, a mecca of Parisian life, during the first months of his new life: «He ate, drank and slept there.» It was at this time that he met a young woman, Marie Lebourg, known as Madeleine, whom he would marry in 1919. He frequented the two «world» artistic centres of the time, Montparnasse and Montmartre.
To make a living, he returned to his job as a printer and started working for François Bernouard, at La Belle Édition in 1917. At this printing house, he met the writer Blaise Cendrars, with whom he became friends. He then joined the Union printing house where the second series of Soirées de Paris, a French literary and artistic review founded by Guillaume Apollinaire, and the main art reviews of the time were printed: Paul Guillaume's Les Arts à Paris, Florent Fels and Marcel Sauvage's Action, Léonce Rosenberg's Le Bulletin de l'Effort Moderne... . This enabled Créixams to introduce himself into the avant-garde literary and artistic circles of the time.
Florent Fels, a French journalist and art writer, is an important and unavoidable figure in this artistic milieu. This meeting led to a true friendship and Fels remained a faithful supporter throughout the life of Créixams.
Créixams recounted this collaboration in a review of the newspaper Action which was considered as a breviary: «With a few friends, we created the newspaper Action, of which Florent Fels was the director and I printed it. We had Blaise Cendrars, Max Jacob, André Malraux, Raymond Radiguet, André Salmon, we were friends. Being friends meant something. I've never had such moments again... And we cooked with Amedeo Modigliani in the print shop.»
He, a simple printer, developed his artistic vocation from these fabulous encounters. He would later confess in a press article: «When I left Barcelona, I was an ignoramus. That's how all my culture was built in Paris.»
On the advice of the painter Othon Friesz, he started painting and exhibited for the first time in 1921 at the Café du Parnasse and then at the Nude Exhibition at the Montaigne Gallery in Paris.
«VILAIN», a self-portrait with a blue scarf, is one of the two paintings Créixams exhibited at the Café du Parnasse. The influence of Modigliani in this self-portrait can be felt while already adding his own style with Catalan accents and tones.
Following his first exhibitions and the success he met, the famous Parisian art dealer Paul Guillaume noticed him and signed him a contract. Créixams' works were exhibited alongside those of André Derain, Pablo Picasso, Maurice de Vlaminck, Henri Matisse and Amedeo Modigliani. Four years later, Paul Guillaume broke the contract because Créixams was not producing enough. Thanks to Florent Fels, Créixams worked for the gallery owner Pierre Loeb, who exhibited works by Georges Braque, Raoul Dufy, Marc Chagall, Chaïm Soutine, Joan Miró, Jean Arp, Paul Klee, etc. He left Montparnasse and his job as a printer for Montmartre but continued to go to Barcelona. His life is summed up in his dual identity as a Catalan and a Montmartrean. And quite naturally, he turned to his Spanish ancestors, El Greco and Goya, to affirm their artistic heritage. His works attract the eyes of great collectors such as Baroness Carmen Thyssen-Bornemisza, Angela Rosengart, Oscar Ghez ....
And yet, this great artist, so representative of the inter-war period, is today unknown to the general public and not recognized on the art market.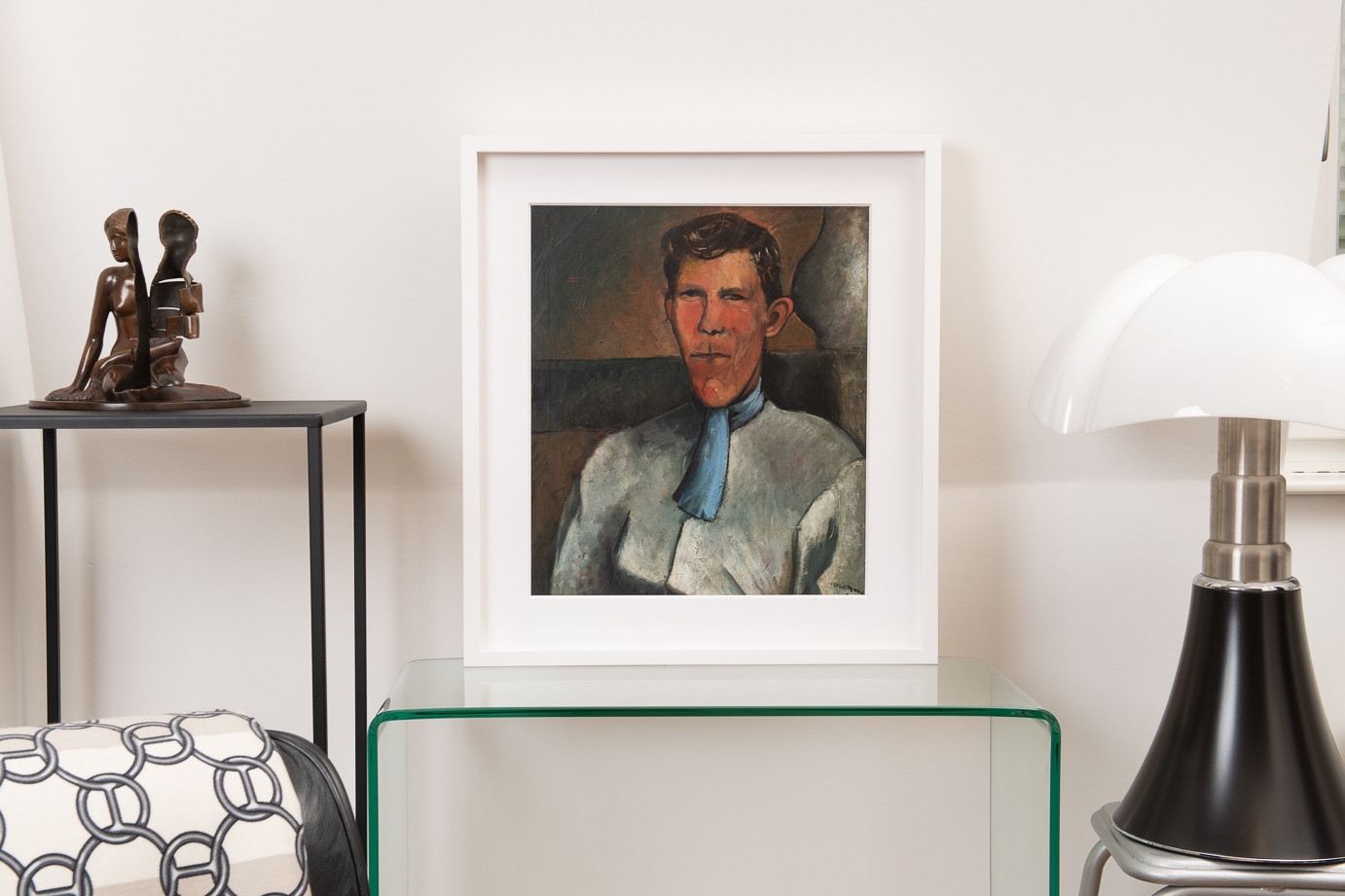 Characteristics
Year: 1921
Origin: France
Artist: Pedro Creixams
Sizes: 46 x 54.5 cm (Width x Height)