About
Pastel on paper, signed in the upper right corner, located and dated «Seville 1910». There is a label on the back «EXHIBITION of Liège - n°163 - M. Morerod» for the exhibition at the Triennial Salon at the Palais des Beaux-Arts of Liège (Belgium) which took place from May 04th to June 30th 1912. This drawing will not be exhibited under the number 163 but under the number 799 with the inscription: «Mother and daughter, enhanced drawing» (P. 157 of the catalog). In 1918, taking again the portraits of these two women, he would paint an oil on canvas which he would name «Joaquina y sumadre».
To introduce this great unknown artist, Edouard Morerod, we will partly quote an article by Edouard Rod, a Swiss literary critic, journalist and writer, published in the magazine l'Artdécoratif (n° 136, p. 26-34, January 1910): «The visitors of the last two Autumn Salons stopped in front of paintings and drawings of a singular vigor, which, by their characters as well as by the way they were made, seemed to be linked to the traditions of the Spanish school. They were signed with the name of E. Morerod ... . He is Swiss. He was born in Aigle in the canton of Vaud in 1879. Orphaned early on, he attended the schools of Lausanne and Neuchâtel, without shining as a brilliant student; and I don't think he kept a very good memory of it. He used to say that he wanted to become a painter. In 1903, he visits Spain for the first time. It is an insight, the revelation of his chosen land. Everything enchants him. He only dreams of returning there. He brings from there his Guitarists, his portrait of the painter Vasquez Diaz, his little Gypsy donkey (acquired by the Neuchâtel Museum)...».
EdouardMorerod escaped from this Swiss artistic current which emerged at the end of the 19th century and which took a typical national direction with the rallying cry «Let's be ourselves».
As he would say, he was «so enchanted by Spain and its rugged and picturesque character that, after coming here once, I no longer had the idea of going elsewhere». Speaking of Zurbaran, Goya, Morerod, whose «power of truth that all the old Spanish masters have» he admired, Morerod added: «They never feared to see ugly, even if they had to. But if people or things often happen to be ugly here, it never reaches vulgarity». And again: «Another reason that made me love Spain is the intense warmth and light. You can spend six months here without seeing a drop of rain. This allows constant work without worrying about fog and humidity.»
To conclude this glimpse of a forgotten talent, let us return to what Edouard Rod thought of it in 1910: «I do not have the needed ability to praise or discuss a technique which imposes itself on me by the acclamation of the appearances and by the extent of its execution. The qualities of the master are emphasized above all in the drawing, so full and sure, through such a beautiful authoritative line ... He didn't take the usual path where you learn the tricks of art before you feel it and which provides you with a technique before you even have anything to say; he is to some extent a self-taught artist; he prepared himself for the age when one is already burning to manifest oneself; he got his apprenticeship and prospered through a production whose very abundance is a sign of power and reveals a creator. It is a work of beginning that we have before us; but we feel that it is the beginning of a master of tomorrow».
Unfortunately «his tomorrow» came to an abrupt end in 1919, at the age of 40.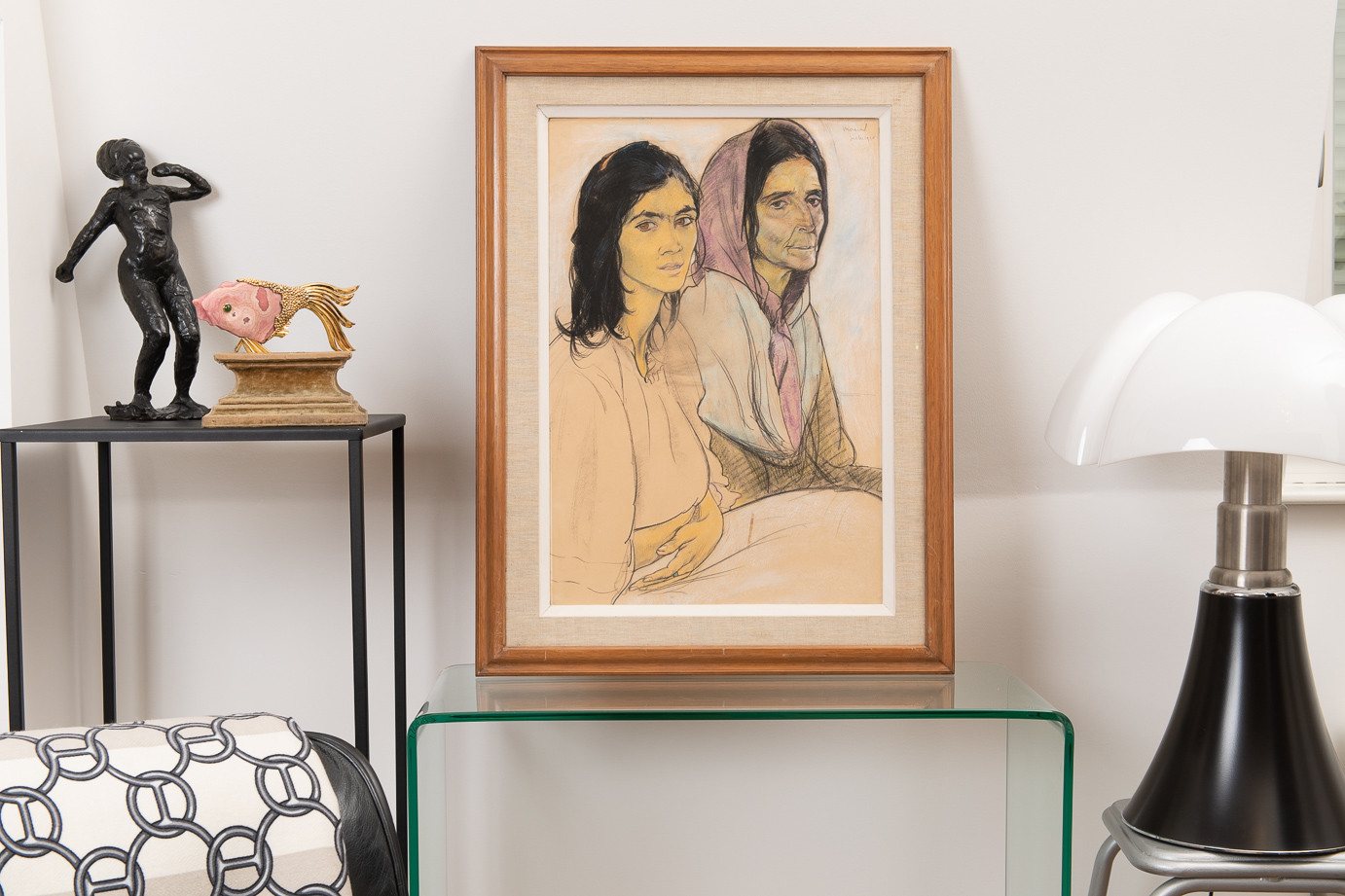 Characteristics
Year: 1910
Origin: Switzerland
Artist: Edouard Morerod
Sizes: 43 x 64 cm (Width x Height)
Provenance
Exhibition at the Triennial Salon at the Palais des Beaux-Arts of Liège (Belgium) which took place from May 04th to June 30th 1912.
Museography
Geneva, Museum of Art and History
Lausanne, Cantonal Museum of Fine Arts
Lausanne, Historical Museum
Neuchâtel, Museum of Art and History
Pully, Museum of Art
Vevey, Jenisch Museum
Paris, The National Museum of Modern Art (Centre Pompidou)
Granada, Alhambra Museum
Bordeaux, Museum of Fine Arts