About
Oil on canvas signed and dated in the bottom right part «Hayden 59» and titled on the back «La table triangulaire». A certificate of authenticity from Mr. Christophe Zagrodzki, certified expert, dated March 22, 2021, will be given to the purchaser.
Born in Warsaw, Hayden left Poland in 1907 for Paris. During the First World War, Hayden moved to a new studio on boulevard Raspail, not far from Picasso, Severini and Metzinger. Despite the war, Montparnasse was in full swing and Hayden befriended Matisse, Max Jacob, Cocteau, Lipchitz and Gris. The latter recommended him to Léonce Rosenberg, whose gallery L'EffortModerne was one of the centres of the avant-garde.
«You had to be one of the initiates before you could enter the quiet rue de la Baume and go up to the first floor, where Léonce Rosenberg, Paul Rosenberg's brother, hid his cubists. They were all there on the shelf, from Braque - the most famous - to Valmier - the least known. It was while visiting them there, in their lair or sanctuary, that I became acquainted with Hayden's paintings.» (Biography of Hayden by Jean Selz, 1962).
«La table triangulaire» is a perfect example of how Hayden succeeded in making the rigour of Cubist grammar his own, without renouncing the refinement that constitutes the painter's noble and fierce originality. In the ultimate cubist still life genre, Hayden succeeded in creating a new sensation of space through the superimposition of lines and planes and the juxtaposition of warm and cold colours. He was able to preserve a very personal note, succeeding, with a great simplicity of means, in the synthesis of his cubist experiences and his real aspirations.
In 1960, on the occasion of an exhibition of his works, his friend Samuel Beckett wrote that Hayden had «known, all his life and like few others, how to resist the two great temptations, that of reality and that of lies».
This period from 1953 to 1970 is considered to be the fulfillment of Henri Hayden's artistic work.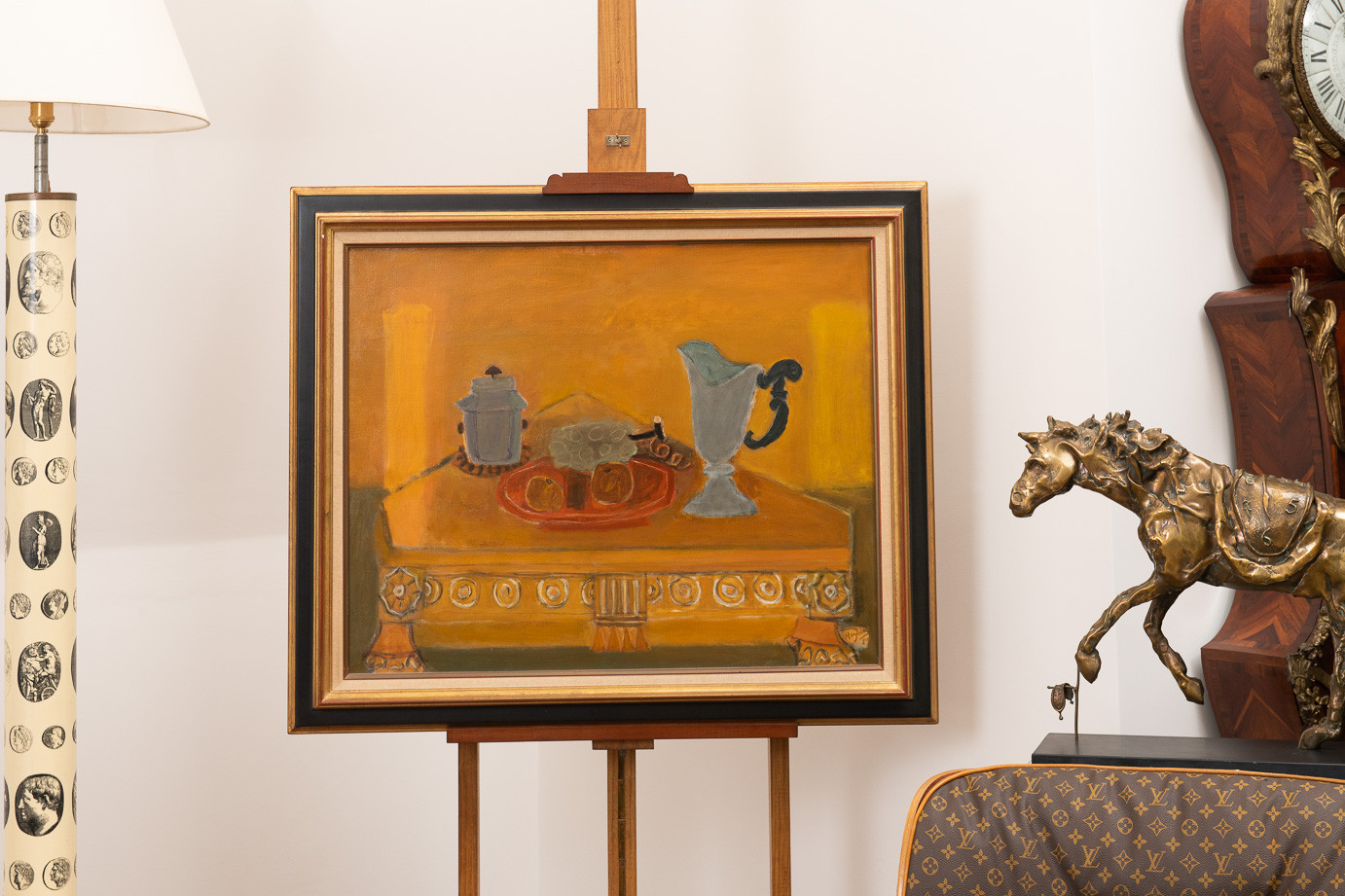 Characteristics
Year: 1959
Artist: Henri Hayden
Sizes: 81 x 65 cm (Width x Height)