About
A very scarce colour lithography on paper by Emilie Marie Bouchaud known as «Mlle Polaire» on stage. It bears the artist's black stamp (Lugt 1338), the publisher's dry stamp lower left: «Ed. Kleinmann, 8 rue de la Victoire, Paris» (Lugt 1573) and on the back, a print number 25/34. This is a beautiful impression of this rare print; the colours are exceptionally fresh and not attenuated. Note the slight clippings at the right and top margin: the initial board with the dimensions of 34.5 x 24.7 cm.
During the period 1893-1895, Édouard Kleinmann (1844-1927) was both a publisher and a distributor of Lautrec prints, so he often added his dry stamp or a number corresponding to the draw to the prints he sold. This stamp appears, for example, on several lithographys by Toulouse-Lautrec kept at the Metropolitan Museum of Art, in New York (inv. 49.55.141, 142, 144, 146, 147, 151, 153 and 331); on a color lithography by Toulouse-Lautrec, Le Coiffeur - Programme du Théâtre libre, 1893 (sale November 24, 2004, Paris, Tajan, n°426) and on the copy of «Mlle Polaire» kept at the Rijksmuseum Amsterdam.
This lithography appeared on the back cover of the humorous weekly newspaper Le Rire, issue n°16, February 23 1895, published in very few copies by Edouard Kleinmann. The preparatory drawing for this lithography is in the collections of the Toulouse-Lautrec museum in Albi.
Mademoiselle Polaire was the stage name of Emilie Marie Bouchaud (1874-1939), originally from Algeria. In 1890, she arrived in Paris to join her brother Edmond who had just started a career as a «caf' - conc'» at L'Européen under the name of Dufleuve. It is with his help that she managed to have an audition and to be hired there.
In her memoirs, she tells us about the origin of her stage name: «I hardly prided myself on astronomy, but the mystery of these distant floods has always interested me tremendously: Here is the shepherd's star, I said to myself ... and the polar star ... the big and the little Bears ... And why, I thought suddenly, an artist wouldn't take one of those names! After all, in the heart of every beginner, a star slumbers, at least in hope ... For the Bears, it was better, of course, not to think about it ... But could we not be called Miss Duberger ... or Miss Polaire? ... Polar! It suddenly struck me as ringing clearly, and worth remembering; I didn't stop for a second at the idea that such a pseudonym might, from a young beginner, barely a child, seem somewhat presumptuous.» (POLAIRE PAR ELLE MÊME, Paris, Eugène Figuiére editions, 1933, P. 34)
Very quickly, she met with great success and became the darling of the Parisian art world, rubbing shoulders with Belle Otero, Aristide Briant, Tristan Bernard, Lucien Guitry, Colette, Willy (Henry Gauthier-Villars)...
Lautrec's lithography representing her on stage in 1895, far removed from the photographs of the time, shows us in a few subtle lines all the energy that she displayed on stage: «As for me, from the start, I have made these exasperated gestures which have always been peculiar to me; I have not looked for any comic comment, and it has never occurred to me to gravely put my hands on my heart because I was talking about love, as I have seen it do so many times. Throwing my head back, I was sort of singing, with my hair flapping in the wind, with my nostrils quivering, with my clenched fists, and even with my toes, wriggling in my stage shoes ...» (POLAR BY HERSELF, P. 33)
It must be said that she was of superb natural beauty and that Willy knew how to interpret it well: «Vivacious, the whole small body as hectic as a cart under pressure. Her thin arms nervously outstretched, fists clenched, in front of her head with the pretty androgynous features thrown back, she arches this famous waist of which even a corseted bee would be jealous. The teeth sparkle, and from the mouth, more voluptuous than classic, a chirp of clear laughter flies out. Then, poignantly contrasted with the childishness of this joy, here the eyes of a fellahine half-open languidly, black diamonds stretched out to the temples, and, under the palpitation of the eyelashes of the East, an unspeakable melancholy dreams.»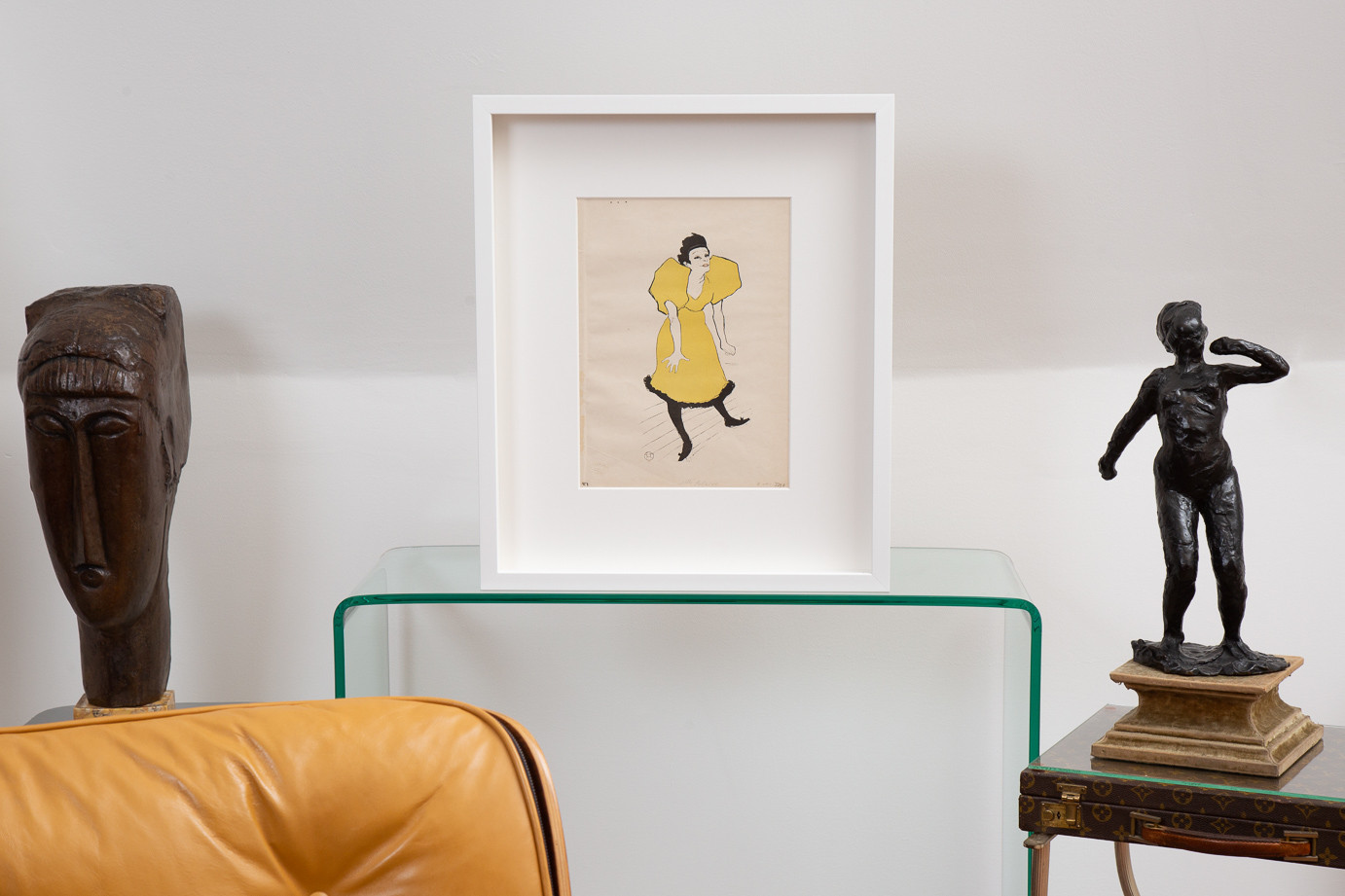 Characteristics
Year: 1895
Origin: France
Artist: Henri de Toulouse-Lautrec
Sizes: 24 x 33.5 cm (Width x Height)
Museography
Rijksmuseum Amsterdam, Portrait of actress Polaire on stage, Henri de Toulouse-Lautrec, 1895, object number: RP-P-1949-628
The Metropolitan Museum of Art, New York, Polaire 1895, ACCESSION NUMBER: 62.650.234
Brooklyn Museum, New York, Polaire, from La Rire, ACCESSION NUMBER: 1998.56.11