About
Pastel on canvas by Pierre Carrier-Belleuse signed bottom left «P. Carrier-Belleuse» and dated 1891.
Inspired by Impressionist and Post-Impressionist movements Pierre Carrier-Belleuse (1851-1932/33) is an artist on the span of two centuries (XIX and XX) who became known mostly through his paintings. Moreover, he also was President of the International Society of Painting and Sculpture at the end of the twentieth century (1895) and became, as well as other great people, a mentor for famous Auguste Rodin. He is a son of a renowned sculptor of the nineteenth century Albert-Ernest Carrier-Belleuse.
He painted with oil or pastel and his artworks represent mostly women's portraits like Degas's or de Toulouse-Lautrec's paintings which were a source of inspiration for Pierre Carrier-Belleuse. He is also known for a large number of ballerina depictions, many portraits of Opera dancers, as well as panoramas respectively painting Notre Dame de Lourdes, Jeanne D'Arc and the War Pantheon. The painter stands out in particular for his talents as a colourist, which earned him praise from contemporary and current critics.
The Chill (1891) is a canvas by Pierre Carrier-Belleuse painted in pastels and representing a seated girl, holding a daisy in her right hand. Her posture is slightly inclined and she is dressed in a dark veil which covers her hair but lets glimpse, by the fringe, of a curly red hair. The facial features are soft and full of femininity; the look punctuated by a pastel green colour reveals a singular radiance in contrast to the sweetness of the whole. She is a young girl, as shown by the smooth, round appearance of her face. She is wearing a white corset sensually revealing her chest and a dark striped skirt. The daisy held by the girl is highlighted by light tones that contrast with the darkness of the skirt and recall the diaphanous corset of the character. The daisy, in painting, is the flower that represents both innocence and shy and young love. This double symbol, which may seem dichotomous, can be interpreted as the embodiment of the double nature of the girl herself. Indeed, the girl is veiled, which can symbolize the preserved innocence, but her hair is red and curly, the emblematic colour of the girl of joy in the image of Marie Madeleine, which is opposed to the apparent purity manifested by juvenile features, veil and white colour. Besides, the corset she is wearing is white but it lets see the shape of her breasts.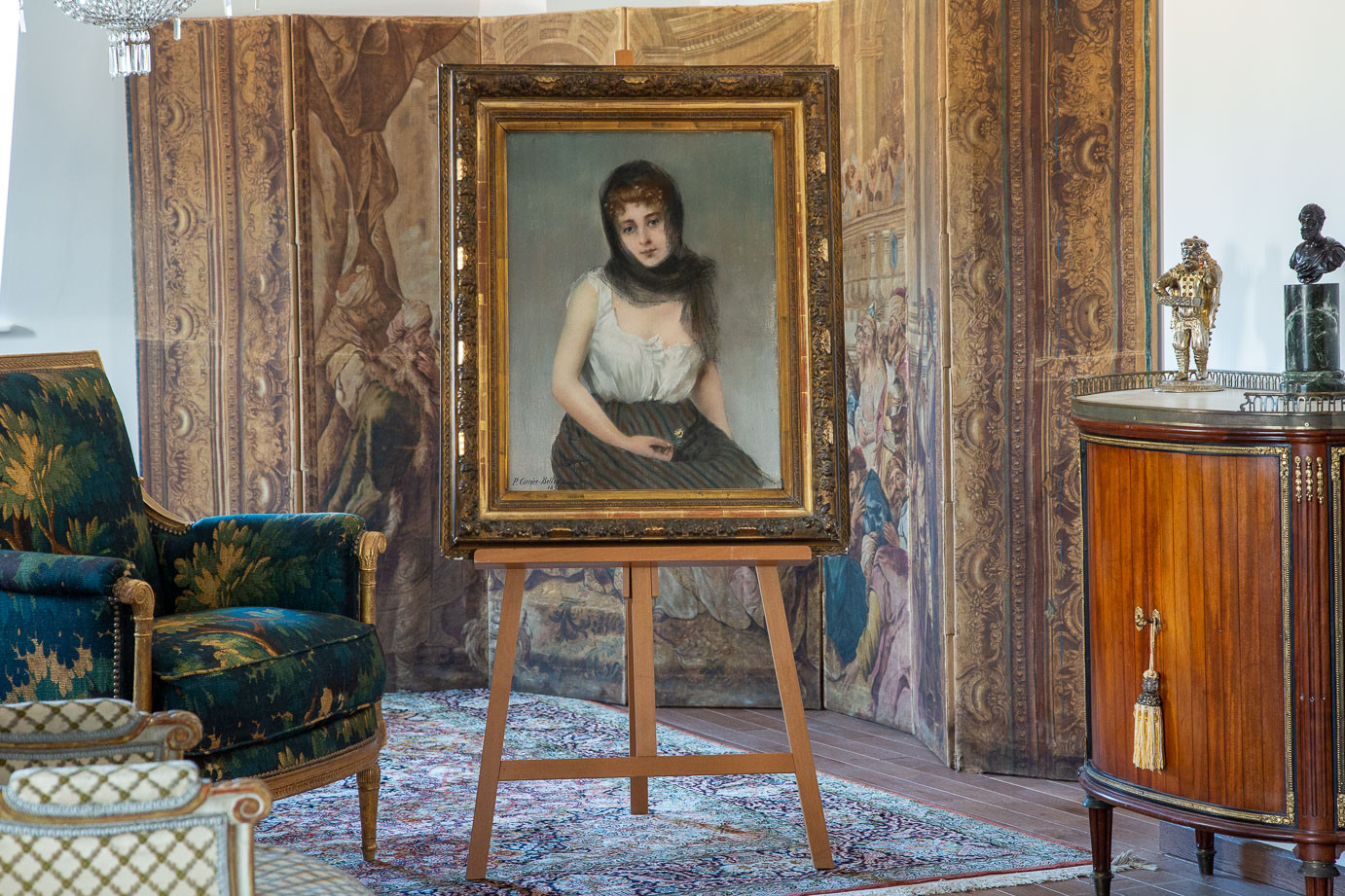 Characteristics
Year: 1891
Origin: France
Artist: Pierre Carrier-Belleuse
Sizes: 60 x 79 cm (Width x Height)
Sizes with frame: 79x98 cm