About
«Woman and Child Sitting on a Wall», oil on canvas signed lower right «Constant Mayer», painted on 1873.
Constant Mayer (Besançon 1832- Paris 1911) specialized in sentimental scenes of everyday life, echoing the vision of the Romantics, which he perfectly illustrates in the painting «Woman and Child Sitting on a Wall», from 1873. When he executed this work, the painter had been living in the United States since 1854, where he achieved great success. Although he was then considered an American artist by the media and the New York public, he regularly sent works to the exhibitions of the Salon de Paris, which earned him the Legion of Honor in 1869.
The canvas painting titled «Woman and Child Sitting on a Wall» testifies to his taste for representing popular and sentimental scenes. A woman and a child sitting on a wall occupy the foreground of the composition. The choice of the seated position of the subjects is found in many of Constant Mayer's works. The bowl, clearly visible in the woman's hand, indicates the begging of the two characters. The woman turns her head to the opposite side of the child, her eyes closed, thus avoiding the sad gaze of the little girl. Plunged into her thoughts, a certain weariness can be guessed from her closed face. The wrinkled forehead and a cane placed at her side indicate premature aging. As for the child with a saddened expression, she stares fixedly at the spectators, rubbing an eye, thus appealing to emotions. Mayer here approaches the social realities of his time: the poverty of the people, partly due to the consequences of the Civil War years (1861 to 1865). In the background, an imposing stone pillar, which is not unlike that of a religious building, emphasizes the place where charitable works are carried out. To the right of the composition, an alley opens up towards a beautiful perspective, beneath a gap of blue and cloudy sky. Two women and a child from the lower classes walk along large stone buildings. Nature is widely represented in the composition with the tree covered with a few green leaves and the bindweed (symbol of weakness and humility) in the foreground announcing spring. The ground is scattered with green moss where a ray of sunlight comes to light it up with small touches.
Concerned about human misery, Constant Mayer bequeathed a large part of his wealth to charitable projects, including Jewish orphanages.
Several of his works are now preserved in the collections of internationally renowned museums, such as the Metropolitan Museum of Art in New York.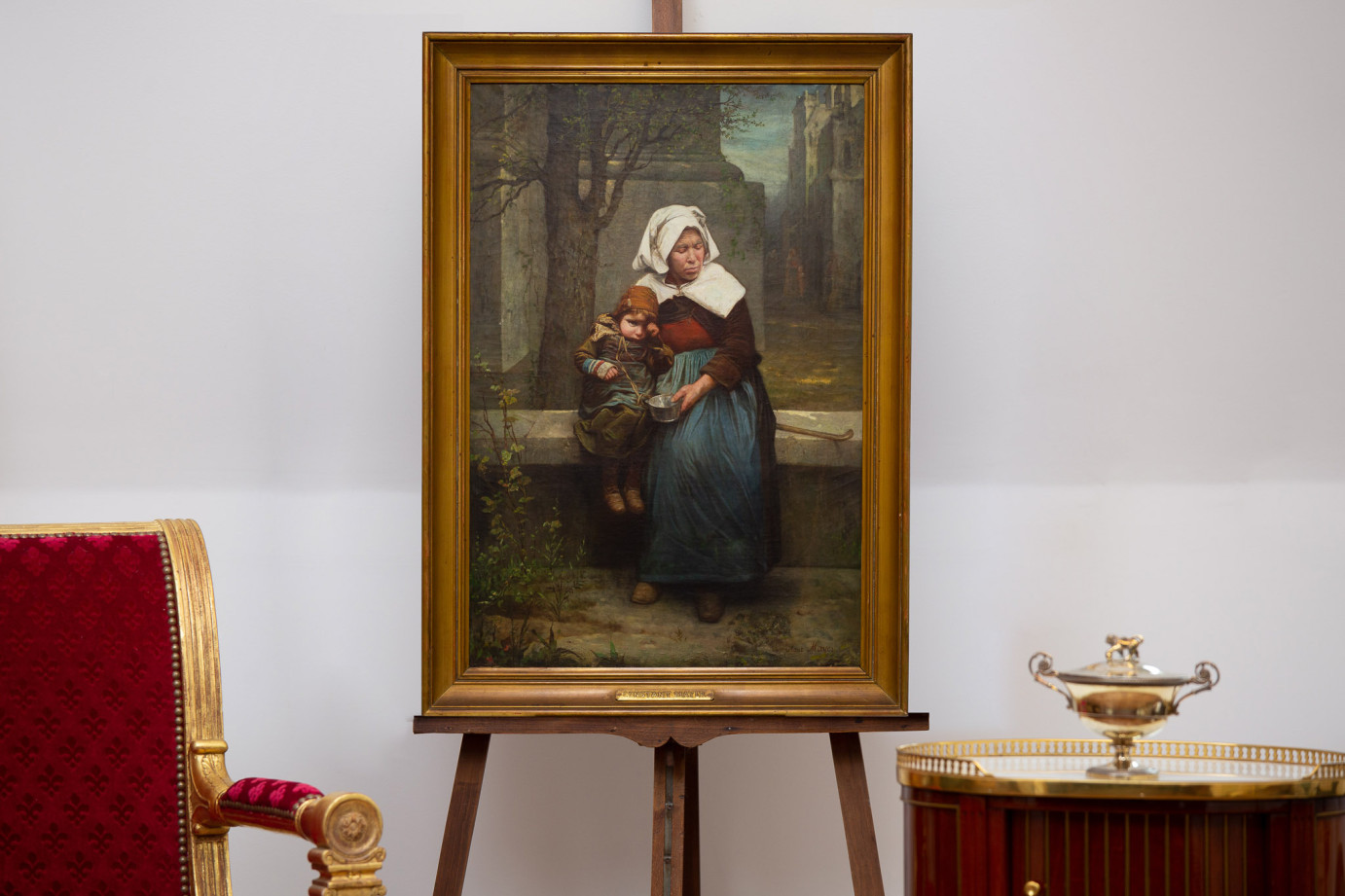 Characteristics
Year: 1873
Origin: France
Artist: Constant Mayer
Material or technique: Oil on canvas
Sizes: 60 x 88 cm (Width x Height)
Provenance
Collection of Mr Francis Cooper Lawrance Jr (1858-1904) and his wife Mrs Susan Ridgway Willing (1866-1933).
Bibliography
Sale after death on Tuesday 17, Wednesday 18, Thursday 19 and Friday 20 December 1912
HOTEL LAWRANCE - 7, Rue du Lycée - Pau
By Master Fernand Rigoulet
Lot 263 - CONSTANT MAYER (1873): «Femme et petit enfant assis sur un mur», 0.88 x 0.60 cm, p. 26