About
This is an oval-shaped mahogany Royal snack table with a mahogany veneer. It opens through a slatted curtain and rests on pilasters linked by a crotch-shaped inset with tapered legs. Its top is made of white marble and is encircled by a perforated golden copper gallery.
It was made in the 18th century and has the "E.C." iron marking. It also has three fleur-de-lys crowned in an oval and a stencil number, 20972. The "E.C." marking belongs to the Ecuries du Carrousel under the Restauration, in other words the Tuileries castle's stables.
The inventory number 20972 allows the identification of the table in the furniture storage journal with the following: July 20, 1829-Store-back from the King's stables, Carrousel, order of May 27, 1829-n. 168-2e inspec-teur. 20972-Oval-shaped mahogany night table, white marble, copper gallery.
The Louis XIV-inspired table as well as its useful purpose allows us to assume it probably never left the furniture storage collections during the French Revolution and its high quality attests the attribued to Jean-Henri Riesener.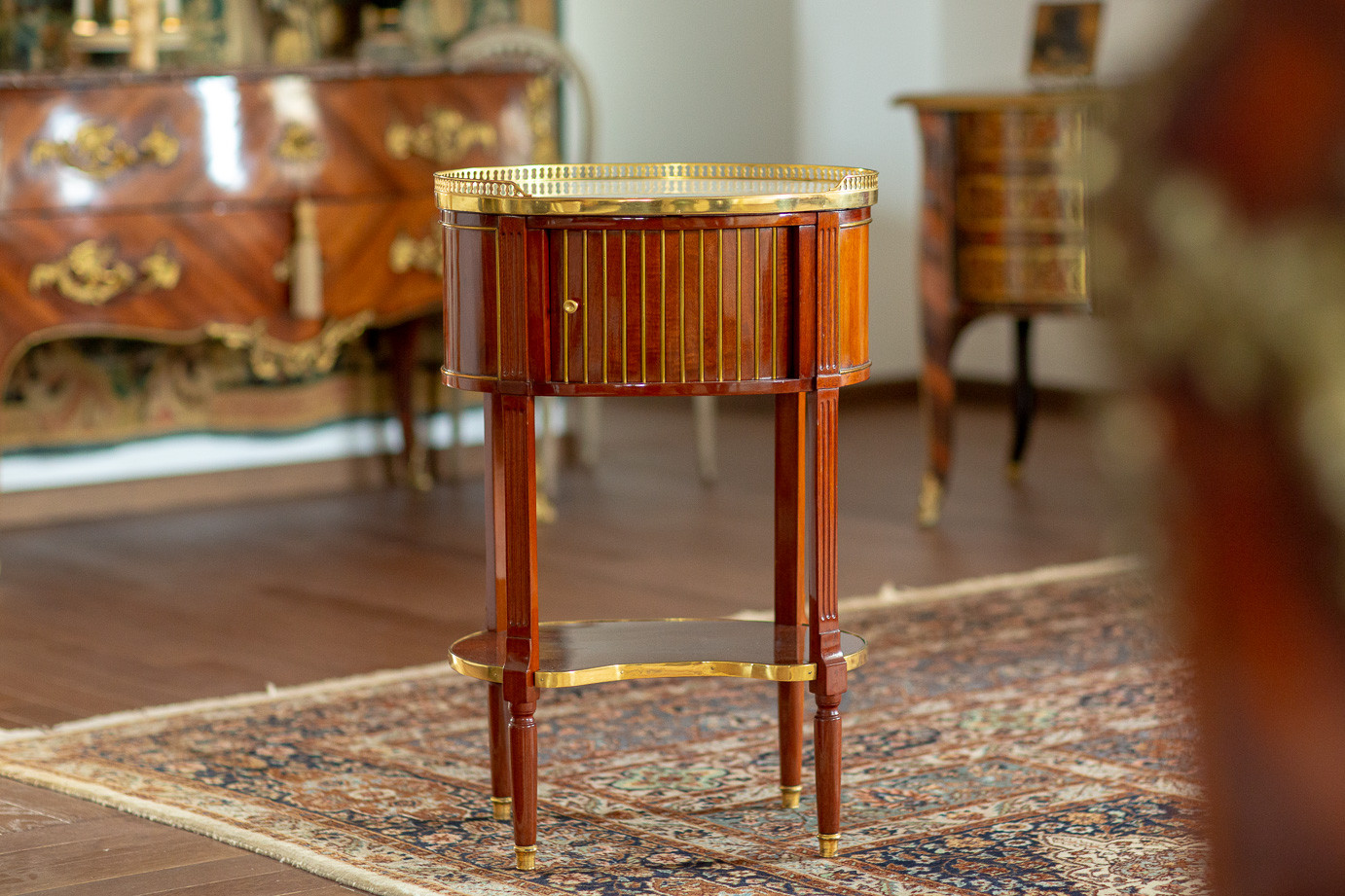 Characteristics
Time: 18th century
Cabinet-maker: Attr. to Jean-Henri Riesener
Material or technique: Mahogany
Sizes: 49 x 75 x 36 cm (Width x Height x Depth)
Museography
Mobilier domestique, Nicole de Reyniès, éditions du patrimoine, tome 1 page 351 : « 1252. Table de nuit, à rideau, 2ème moitié du XVIIIème siècle, Louis XVI, Mobilier national, Paris. »