About
This unique work by Jean-Michel Folon is a part of the «bag characters» series, colourful collages made from bags recycled during his numerous trips and international exhibitions. Concerning our piece of art, signed twice and dated 2001, Jean-Michel Folon wrote its origin on the back of cutting: « FOLON / Personnage (Hommage à Gaudi) 2001 C12 - Découpage, sac de la Pedrera Barcelone (dernière construction de Gaudi), sac trouvé pendant mon exposition à la Pedrera et découpé des années plus tard». It is indeed at La Pedrera in Barcelone that the first exhibition of his sculptures took place in 1993.
It comes from the collection of Doctor Paul Chabit who created the Mouans-Sartoux Colloquium in 1991 which brings together personalities from the worlds of science, human thought and the arts for a few days: «Each year, in September, at the Colloque de Mouans-Sartoux, the noise of the world fades for a few days and we live in another world, that of knowledge…philosophers, scientists, poets, writers, filmmakers, painters, come from everywhere for a family reunion of minds and to share their knowledge…and during these few days Paul Charbit, to whom we owe these meetings, performs the same miracle: he abolishes time». (Jean-Michel Folon-200)
He said of himself: «Deep down, I am neither a painter, nor draftsman, nor poster artist, nor writer, nor engraver. I am neither abstract nor figurative. I do not belong to any school. My goal is not to appear in art history. I have not invented anything, since I owe everything to everyone. I do not understand my images, and everyone is free to understand them as they wish. I only tried to fix my dreams, with the hope that others would hold theirs to them.»
In fact, his creation is boundless: from illustration to credits for television, including theatre sets, tapestry, stained glass and sculpture, his talent is expressed in many facets.
He appears as an «artist of a new genre, unidentifiable according to the mysteries of art criticism, making fun of aesthetic categories…he pursues his unique path.» (François Mathey-Folon exhibition at the Museum of Decorative Arts in 1971).
This «bag character» (a tribute to Gaudi) on an even different medium is a new variation of Folon's poetry, full of humility, tenderness, if not humour. The artist built an assemblage variegated with colour from this bag diverted from its usefulness, torn to form this silhouette stretched towards the sky. This «bag character» is locked in a box like a puppet with a shifty gaze. He only has his imagination to extract himself from it. Like Prévert, Vian or Gary, whose books he illustrated, Folon liked to play on the fragility of the human being between the serious and the marvellous. The man was at the heart of his concerns. François Mathey spoke of his work in this way: «Folon is a prophet in his way since he reminds man of his vocation to spiritualize the world».
«Few people remember that he was one of the first to express the great solitude of man in the city in his works. Lonely men, often small but incredibly present, actors and spectators at the same time, who never seem, prisoners of the walls of cities, giant palisades that they have erected themselves. Because there is always a desire for freedom and reasons for hope in Folon's art.», writes Guillaume Sébastien.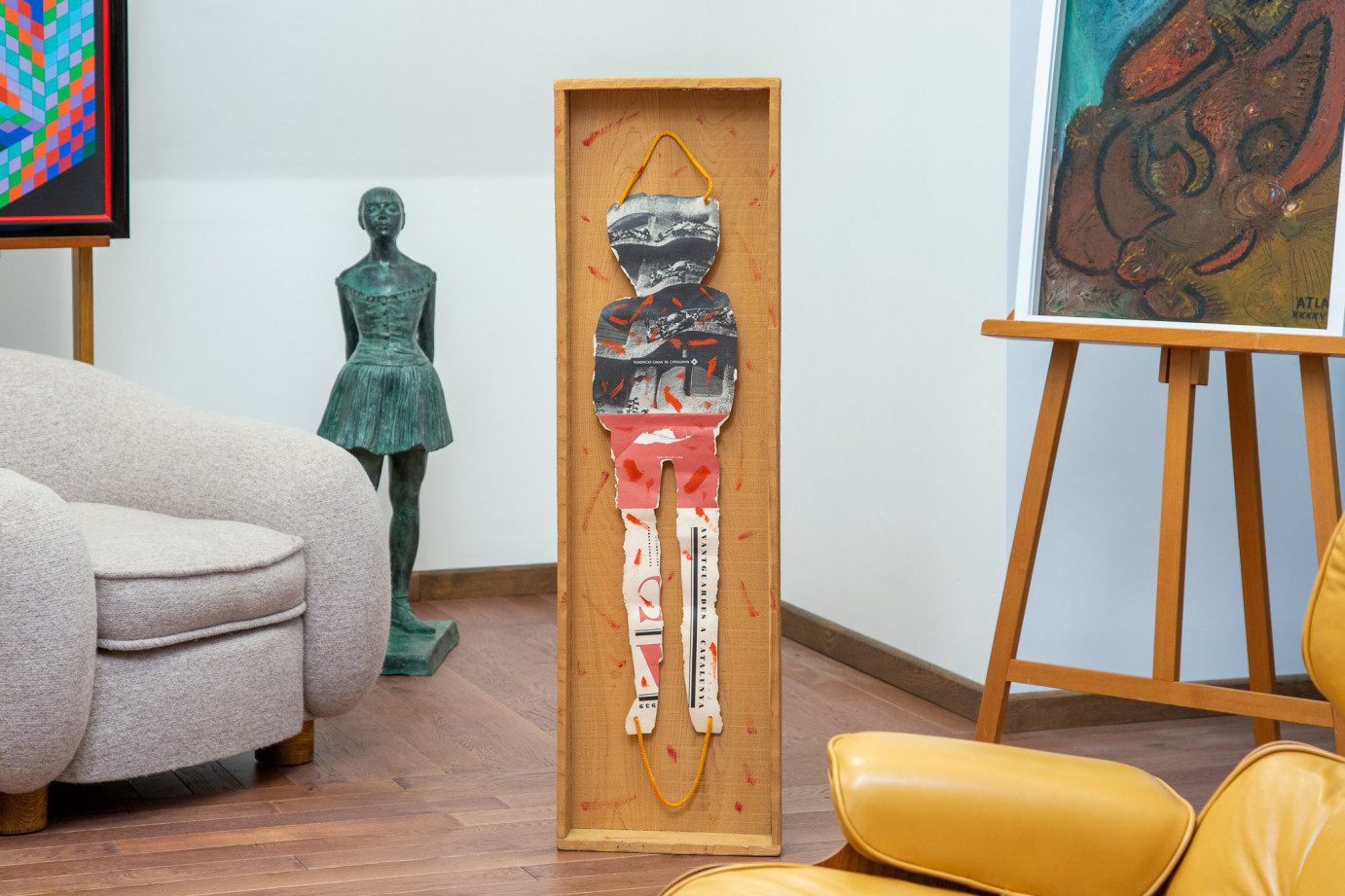 Characteristics
Year: 2001
Origin: France
Artist: Jean-Michel Folon
Sizes: 35 x 121.5 cm (Width x Height)
Provenance
Collection of Doctor Paul Charbit