About
Swivel office armchair with armrests, in Macassar ebony veneer and leather upholstery, placed on four console legs. Wears the stamp «Ruhlmann» - iron mark.
In her book, Jacques Emile Ruhlmann, Florence Camard gives us the origin of the French way of life that has been Ruhlmann's guiding principle throughout her life:
«If in the 17th century, the monarch required that the pomp must be the expression of his power, a French tradition requires that the art of living and the sense of intimacy were invented in the 18th century thanks to women - sovereign or royal mistresses - and that the cabinet makers themselves were guided by their demands for comfort, when it was not by the whims of fashion.»
Rulmann, a nice psychologist and an excellent salesman, has always tried to obtain the good graces of women, knowing that it is they who must be seduced to obtain an order for a piece of furniture. This feminine side is reflected in all her works, where finesse, extreme quality and the care taken in her work are the purest testimony to this.
This makes Ruhlmann's creations so unique, so precious and gives them a prestige that has long since gone beyond the French borders. The scarcity of this furniture on the market also reinforces its value.
To cover this chair, we called on the Sovos Grosjean Tannery, whose living Heritage Company (LHC) label, awarded by the French government, is a mark of recognition for its know-how of excellence and guarantees the very high quality and authenticity of the leather used for this chair.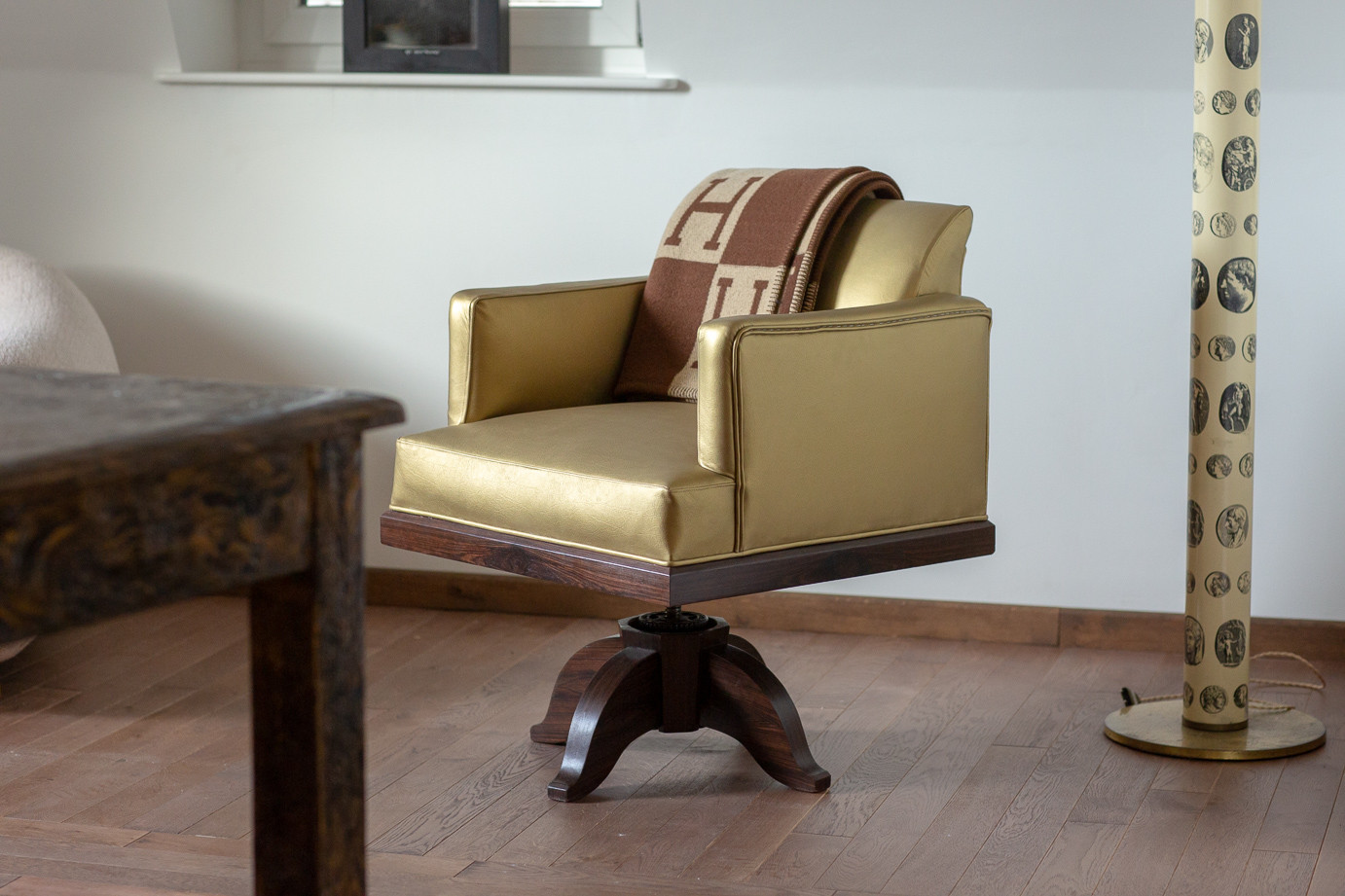 Characteristics
Year: 1925/1930
Origin: France
Cabinet-maker: Emile-Jacques Ruhlmann
Sizes: 64 x 83 x 66 cm (Width x Height x Depth)
Bibliography
Jacques Emile Ruhlmann, Florence Camard, Editions Monelle Hayot, 2009 - Model similar to the «Tournmétal SAD 26» armchair reproduced on pages 213 and 214.