About
Exceptional Daum lamp from the years 1925-1930, made of orange tinted glass with geometric decoration deeply acid-etched with 2 lights. The lampshade, held by a three-armed metal structure (bronze) finished with a small hammered and patinated ball, rests on a conical foot. The lampshade and base are signed «Daum Croix de Lorraine Nancy France».
This orange-coloured table lamp is the work of the Daum crystal factory. This French company was founded in 1878 in Nancy by Jean Daum and was, at the time this lamp was produced (around 1925), one of the most famous crystal factories in France.
It was awarded the Grand Prize at the Paris Universal Exhibition in 1900.
In the 1920s, the first Art Deco style pieces appeared with straight, geometric lines, including this lamp.
The lampshade has three levels of acid etching. These are square-shaped and increasingly incremented. They mark a break with the foot, which in its highest part reveals vertical streaks joined at the base by new squares on three levels.
The top and base of the lamp are therefore built on the same geometric model.
This lamp is a real masterpiece of glassware made by Daum. It is also considered as a sublime piece of art that add value to any décor, whether classic or contemporary.
This part has recently been rewired in accordance with applicable standards and is in very good condition.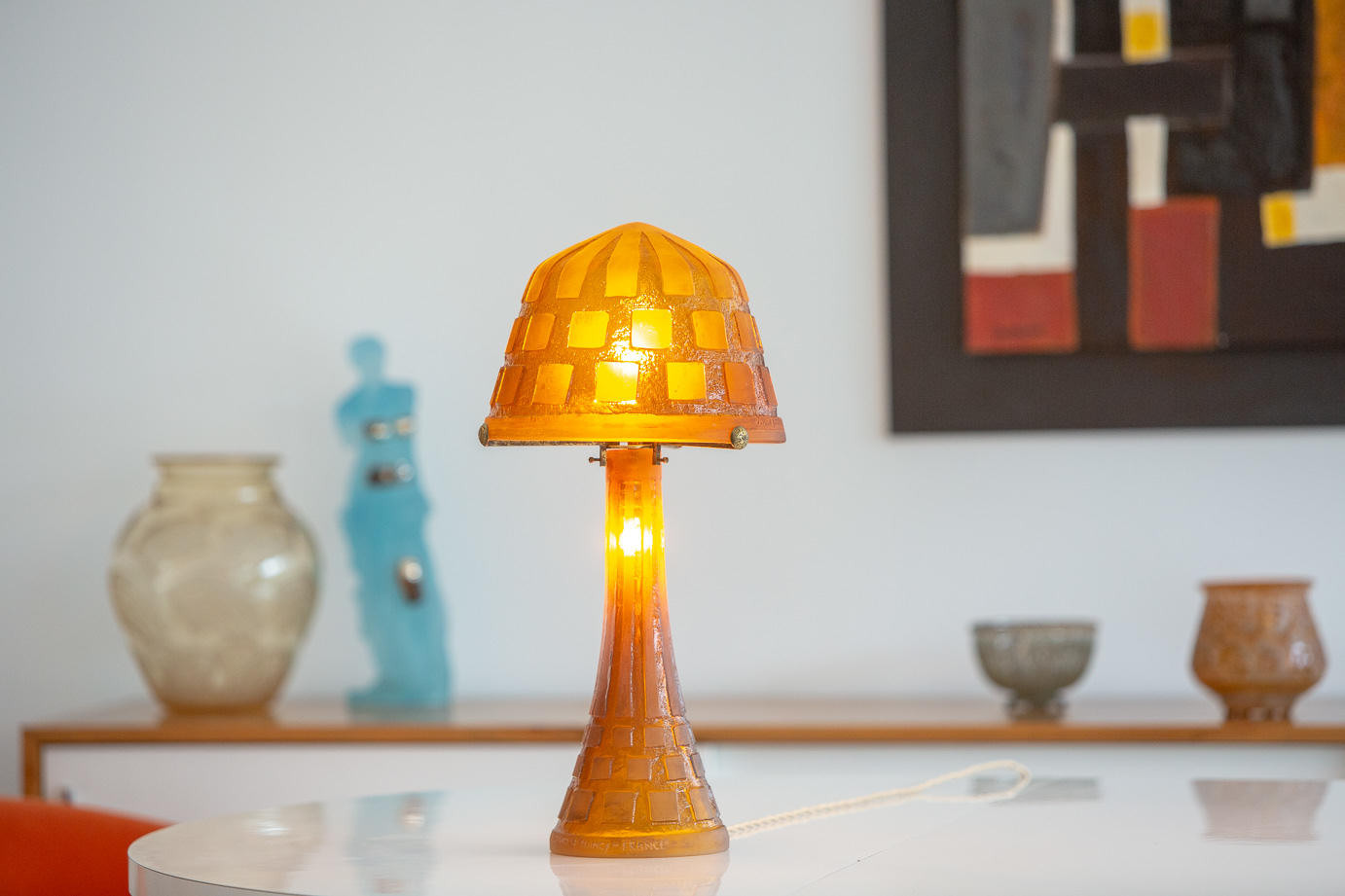 Characteristics
Year: 1925-1930
Origin: France
Manufacturer: DAUM
Material or technique: Glass
Height: 53 cm
Bibliography
Clotilde Bacri, Daum, Michel Aveline Editeur - 1992, modèle similaire reproduit en page 207.
Museography
Musée des Beaux-Arts - Nancy (France)