About
Suite of four chairs in painted and gilded wood with openwork backrest decorated with stylized foliage, resting on arched legs. Russia at the end of the 19th century.
Underneath the uprights of each chair, a label and an ink stamp are applied.
At the top of each label, there is a three-letter abbreviation « Е.И.В » for «Her Imperial Majesty». This abbreviation is followed by the title of nobility "князя" "Prince". A name (rather a first name and surname) is written at the bottom of each label as follows:
- for labels No. 029 and No. 1030: Александра Георгиевича - Alexander Georgievitch
- for labels 216 and 951: Георгия Максимилиановича - Georges Maximilianovitch.
We also specify that these names are written in genitive, this grammatical case in Russian marks the belonging.
The oval stamp of His Imperial Highness George Maximilianovich of Leuchtenberg, Duke of Leuchtenberg and Prince Romanovsky, son of Maximilian Joseph Eugene Auguste Napoleon of Beauharnais and Grand Duchess Marie Nikolaevna of Russia, daughter of Emperor Nicholas I and the round stamp of Duke Alexander Georgevitch of Leuchtenberg, son of the first, inform us about the imperial provenance of these chairs.
In 1876, when his mother died, Prince George inherited the neoclassical Leuchtenberg Palace next to Peterhof, near St. Petersburg, where this suite of four chairs probably originated. In 1879, he married Princess Therese of Oldenburg in Stuttgart without the permission of the Czar or the Russian Orthodox Church, and thus became the only son of the Grand Duchess Mary Nikolaevna to conclude a dynastic union. He died in 1912 and was buried in the Grand Ducal Mausoleum of St Petersburg. Prince George appears in "The All-Nighter of St Petersburg", a historical novel by Prince Michael of Greece.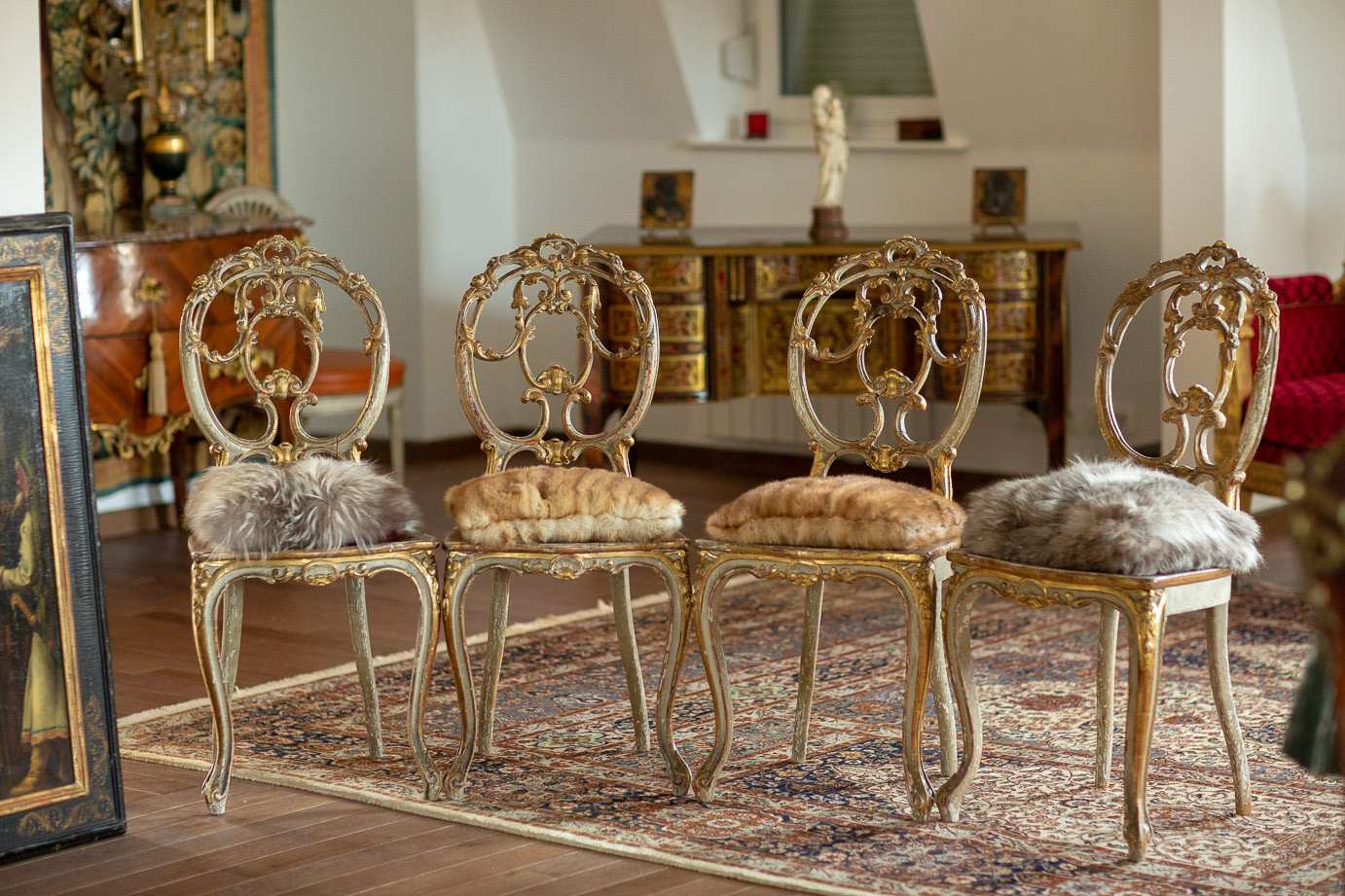 Characteristics
Time: 19th century
Origin: Russia
Material or technique: Painted and gilded wood
Sizes: 42.5 x 94 cm (Width x Height)
Четыре расписных и позолоченных деревянных стула царской семьи России
Комплект из четырех окрашенных и позолоченных деревянных стульев с ажурной спинкой, украшенной стилизованной листвой, опирающихся на арочные ножки. Россия конца 19 века. Под стойками каждого стула прикреплён ярлык и чернильная печать.
В верхней части каждого ярлыка имеется трехбуквенное сокращение "Е.И.В" т.е. "Его Императорского Величества". За этой аббревиатурой следует титул дворянства "князя". Имя (точнее имя и отчество) указано в нижней части каждого ярлыка следующим образом:
для ярлыков № 029 и № 1030: Александра Георгиевича
для ярлыков № 216 и № 951: Георгия Максимилиановича
Мы уточняем, что эти имена написаны в родительном падеже, необходиая грамматическая форма для указания принадлежности.
Овальная печать Его Императорского Высочества Георгия Максимилиановича де Лейхтенберга, герцога Лейхтенбергского и князя Романовского, сына Максимилиана Иосифа Эжена Огюста Наполеона де Богарне и Великой Княгини Марии Николаевны Русской, дочери императора Герцога Лейхтенбергского Николая 1ого, а также круглая печать Александра Георгиевича де Лейхтенберга, сына Георгия Максимилиановича де Лейхтенберга доказывает нам имперское происхождение этих стульев.
В 1876 году, после смерти своей матери, князь Жорж унаследовал дворец Лейхтенберг в неоклассическом стиле, расположенный рядом с Петергофом, недалеко от Санкт-Петербурга, где, вероятно, был найден этот набор из четырех стульев. В 1879 году он женился на принцессе Терезии Ольденбургской в Штутгарте без разрешения царя и Русской православной церкви и, таким образом, стал единственным сыном великой княгини Марии Николаевны, заключившей династический союз. Он умер в 1912 году и был похоронен в Великокняжеской усыпальнице Санкт-Петербурга. О принце Жорже идёт речь в "La Nuit blanche de Saint-Pétersbourg", историческом романе Михаила, принца греческого.