About
A shepherdess and a armchair, from the empir period, of royal origin, in gilded wood with a flat backrest that can be reversed, the columns in pilaster with colossal balusters carved with palmettes and rosettes, the convex belt with laurel leaf branches, resting at the back on small sabre feet (later period casters for the shepherdess); fire mark: «crowned EU» and number written in ink with stencil: «353» for the shepherdess and «361» for the armchair, the two stamped «JACOB D RUE MESLEE».
During the visit of Queen Victoria (1837-1901) and Prince Albert at the Eu Castle, upon King Louis-Philippe's invitation, between 2 and 7 of September 1843, the French sovereign had the ground floor of the castle refurbished to welcome his distinguished guests with dignity. This important event is immortalized by an album of watercolours offered by the King of France to the Queen of England, still in the collections of Windsor Castle.
The watercolours numbered 8 to 10 accurately represent Queen Victoria's apartments in the Eu Castle; the Queen's living room and bedroom are illustrated by Adrien Dauzats and the Queen's cabinet by François Joseph Nolau. There are clearly two identical shepherds on both sides of the fireplace, as well as armchairs, one of which, identical to ours, is now kept in the Eu Castle and the other in the Villa Masséna in Nice.
Before being used during Queen Victoria's visit to France, the story of this furniture is well documented. We know in particular that it was bought in 1816 by the Dowager Duchess of Orléans, Louise Adélaïde de Bourbon-Penthièvre (1753-1821) from the Arch-chancellor Jean-Jacques Cambacérès, Duke of Parma (1753-1824), at the same time as the Roquelaure hotel located at Saint-Dominique Street, Paris, where it was furnishing.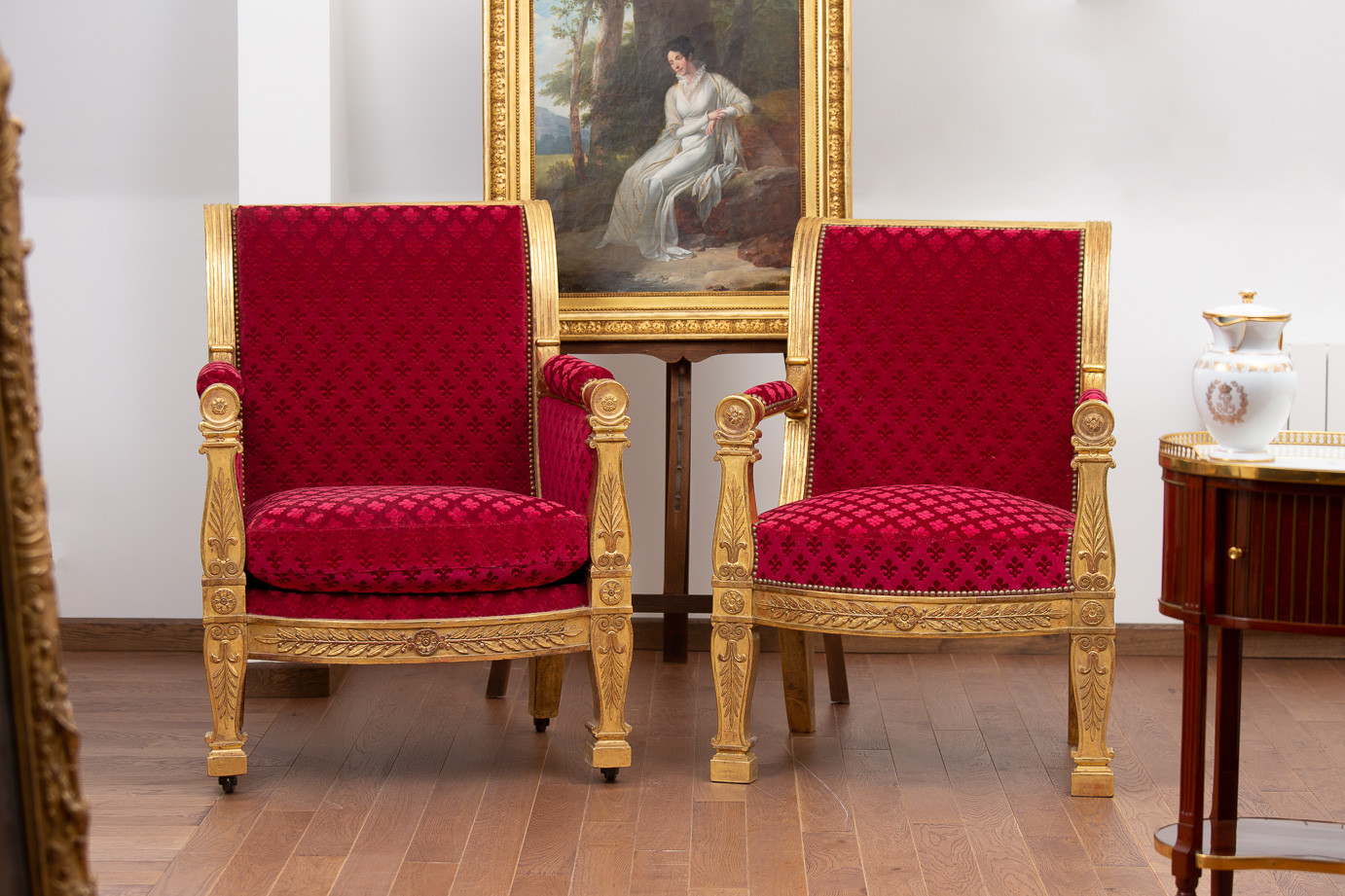 Characteristics
Year: 1805/1815
Origin: France
Cabinet-maker: Jacob D. R. Meslée
Material or technique: Gilded wood
Sizes: 74 x 100 cm (Width x Height)
Provenance
Jean-Jacques Régis de Cambaceres, Duke of Parma (1753-1824) until 1816.
Louise Marie Adélaïde de Bourbon-Penthièvre (1753-1821), at the Eu Castle.
Louis-Philippe, king of the French (1773-1850), at the Eu Castle.
From Queen Victoria's furniture during her visit at the Eu Castle in 1843.