About
Acrylic and metallic paint on paper, executed in 2009, signed «Damien Hirst» on the reverse and stamped «This painting was made by/to celebrate the opening/of Damien Hirst Requiem,/at the Pinchuk Art Centre (in Ukraine) on». Also signed by the person to whom the work was gifted and dated «22/04/09».
The exuberant, exploding colors of Damien Hirst's Beautiful Romance in the Age of Uncertainty are indicative of his iconic Spin Skull series. Hirst began making his Spin paintings in 1992. A member of the influential «Young British Artists» (YBA) movement, a group notorious for its innovative use of atypical materials and processes, perceived shock tactics, and entrepreneurial spirit, Hirst soon became the most widely acclaimed artist of his generation. He stands alongside Jeff Koons as a master of contemporary innovation, sparking a dialogue about the convergence of fine art, technology, and consumerism through his works.
Spin Skull highlights the spontaneity and energy integral to Hirst's creative process. The work stands out in the Spin series due to the boldness and brilliance of its electric orange and blue hues that create an aesthetic clash and harmony within its circular canvas. The colors, introduced to the canvas in a pure untouched state, are subjected to a mechanical rotating movement at the moment of their introduction that dissolves order and disengages the work from the arbitration of thought and representation to become pure expression. Hirst's artistic method is reminiscent of Jackson Pollock's action painting and sets into motion a transition from pure color to rhythmic form in this psychedelic arrangement.
Hirst explains that these paintings are a «massive explosion of energy, full of life, color and optimism.» (D. Hirst and S. Hagen, «Tate Modern and Damien Hirst Host Art Project in Covent Garden», Capco, London, 2012, n.p.). It was defined as the perfect way to «express the energy, diversity, anarchy and multiplicity of contemporary British culture.» (E. Devlin, Damien Hirst News, August 2012).
The Spin paintings were also highlighted in his celebrated retrospective at London's Tate Modern in 2012, the most popular solo show by an artist in the museum's history, attracting almost half a million visitors. They are one of the artist's personal favorites, saying «I really like making them. And I really like the machine, and I really like the movement.» (D. Hirst and G. Burn, On the Way to Work, London, 2001, p. 221). As such his Spin paintings are a celebration of life, technology, and the inherent beauty in materiality.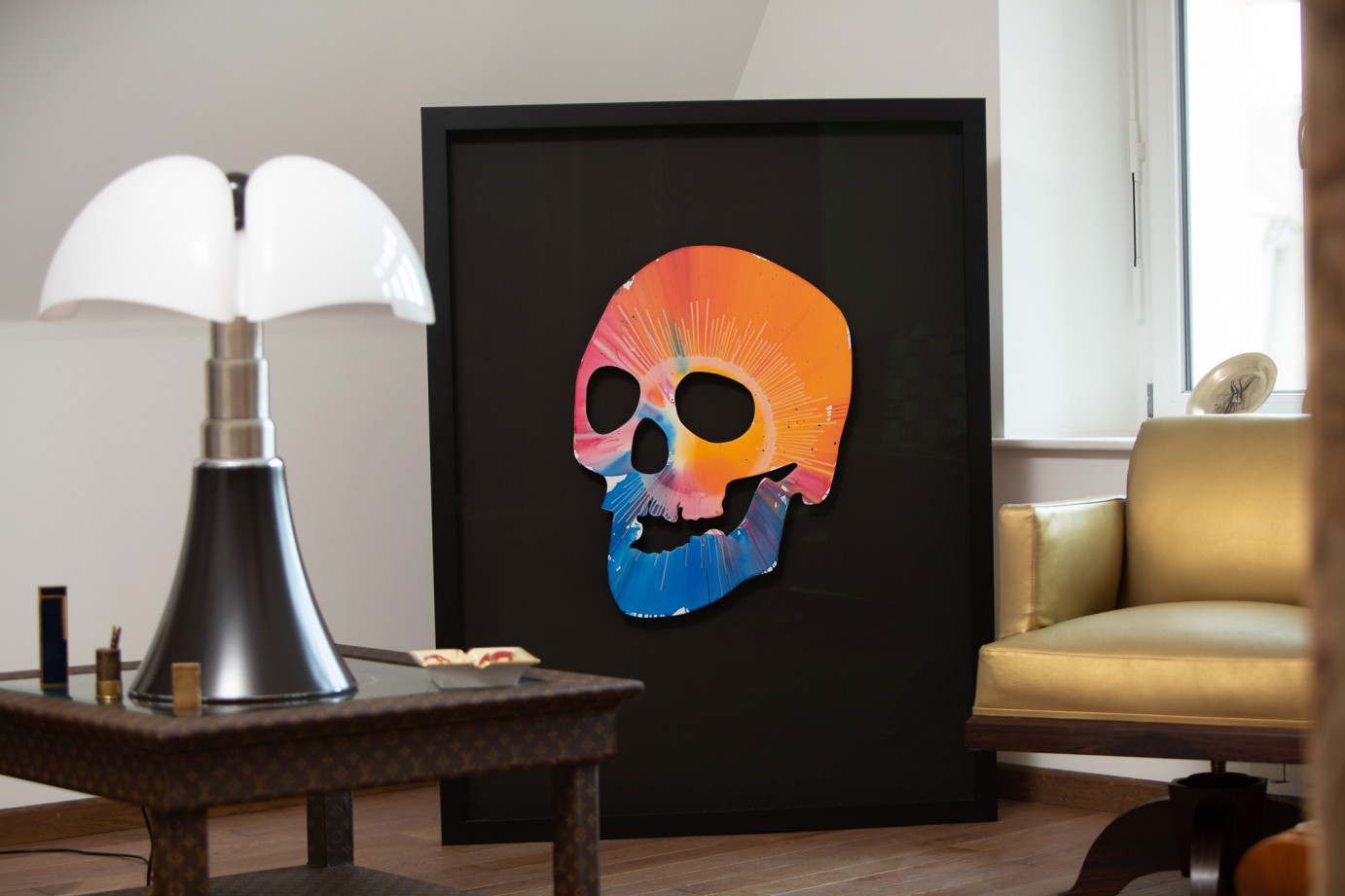 Characteristics
Year: 2009
Origin: Great Britain
Artist: Damien Hirst
Sizes: 52 x 71 cm (Width x Height)
Sizes with frame: 107x140 cm