About
Planetary Folklore Participations No 2, colored plastic(Luran) and aluminum set of two multiples, one incised with signature (lower right) and signed in black ink «Vasarely» and numbered 40/500 on a label affixed to the reverse (there were also 75 artist's proofs), co-published by Editions William Wise, France and Editions Pyra A.G., Switzerland.
It is a kinetic multiple composed of coloured plastic elements, the Luran, all removable and magnetized in order to create the desired luminokinetic composition yourself. The work can be hung on the wall, it is in its original cardboard box, accompanied by these «programming sheets».
«My color nuances constitue the fundamental polychrome portion of my plastic alphabet», says Vasarely. «Concluding a long research, these color nuances have been achieved in the exceptional materiel, Luran. This victory signifies the beginning of the industrial fabrication of exceptionally beautiful creations, directly integratable into architecture. The era polychrome environment begins.»
Participation N°2 goes deeper into Vasarely's chromatics. The six basic colors are red, yellow, blue, green, violet and grey each blended in 10 different shades. Aside from contrasting harmonies, and kinetics, this combination introduces into the compositions light and shade, and the relativity factor. This helps to activate individuality and its expression through the work. Participation N°2 was developed by the artist as the ideal means for color transpositions. Vasarely calls his own combinations: «Algorithms».
The shapes and colors which from the units may easily be coded for programming and thus give plastic art direct access to the vast field of cybernetics.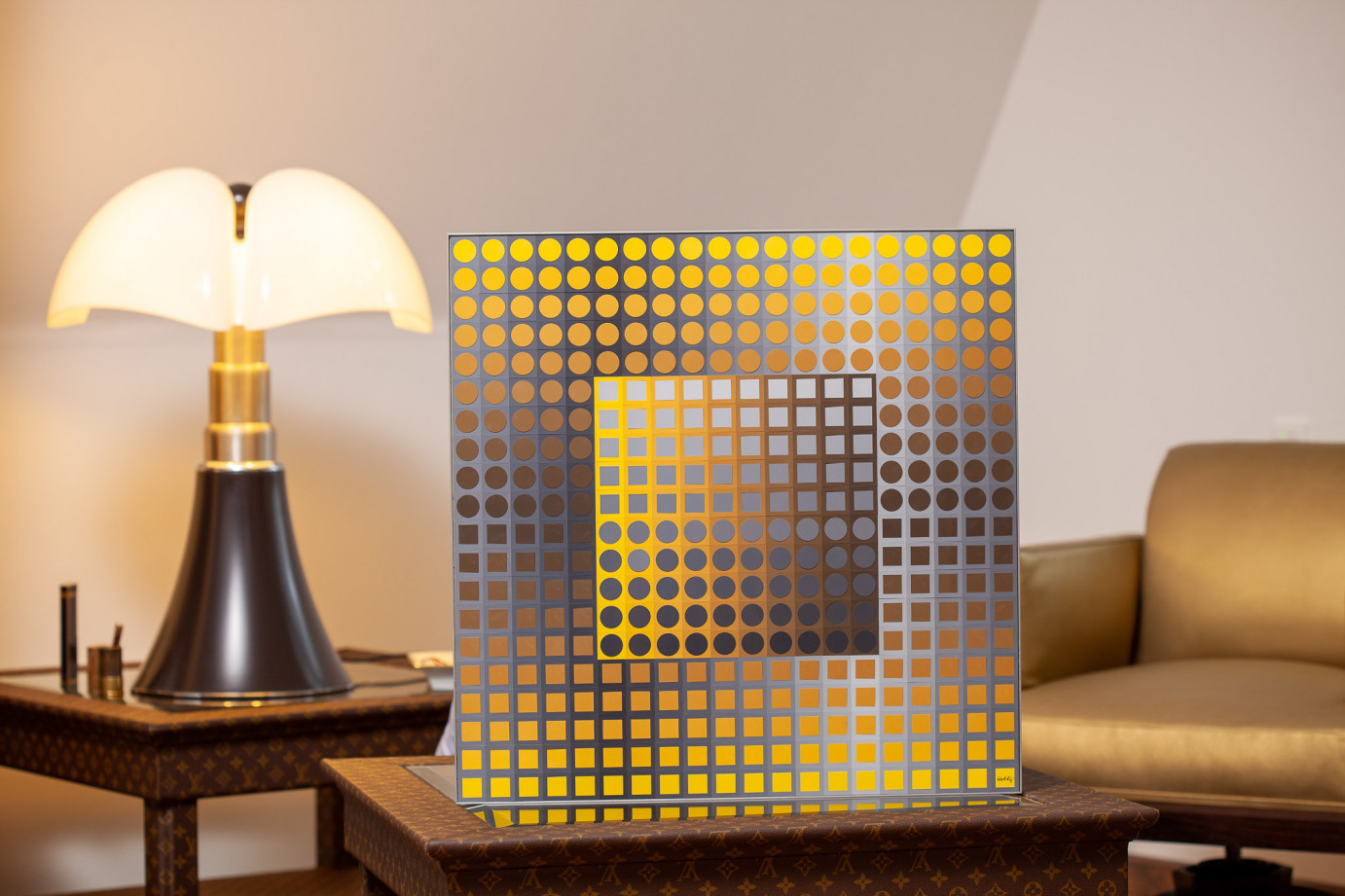 Characteristics
Year: 1971
Origin: Switzerland
Artist: Victor Vasarely
Sizes: 60 x 60 cm (Width x Height)
Bibliography
Vasarely III, ed. du Griffon Neuchatel (Sweden), 1974, pp. 244
Museography
Vasarely Collection Museum of Fine Arts, Budapest