About
Terracotta sculpture lightly glazed in white and signed with the monogram «G.B.».
Co-founder of the Cubist movement with Pablo Picasso, which dominated the early 20th century, Georges Braque (Argenteuil 1882 - Paris 1963) experimented and renewed his artistic practice throughout his career. It was after the Great War that he tried his hand at sculpture. During the winter of 1939-1940 spent in Varangeville in Normandy, he returned to sculpture, working with natural materials such as pebbles collected from the beach. He dedicated himself to this art, especially to glazed ceramic sculpture, almost exclusively during the early years of World War II, gradually becoming more figurative. He thus joined the great family of painter-sculptors: Degas, Renoir, Gauguin, Cézanne, Matisse, Picasso...
The ceramic piece titled «Crenellated Head», executed around the 1940s-1950s, shows a real transformation of the artist's visual research field. He no longer distorts his characters through the fragmentation of volumes or curved lines, but his «Crenellated Head» offers a simple and elegant composition, thus adopting new languages. His human sculptures are always in profile, just like the figures depicted in the paintings of ancient Egypt. His characters are inspired by Greek mythology, a period he particularly appreciates, especially since 1931, when he worked on the theme of Hesiod's theogony. Thus, he chose to title some of his works with the names of Greek heroes and divinities such as Atalanta or Cephalus. He pursued this quest on the Greek theme from 1961 to 1963 with the «Metamorphoses».
The bas-relief «Crenellated Head» depicts the profile of a Greek man, worked in monochrome and lightly glazed, characterized by this reddish clay color. It was made based on a terracotta test signed with the monogram GB and slightly larger than the one executed in ceramic. The «Crenellated Head» work was selected to illustrate the four-color poster of an exhibition devoted to Georges Braque's sculptures at the Adrien Maeght gallery in Paris in 1985. Braque sculpted several variations of this portrait in various materials and techniques. He also produced many Greek heads in lithographs and etchings at the same time: Urania, Hera...
A craftsman of material and accomplished artist, Georges Braque exploits various mediums: painting, sculpture, pottery, engraving. During his lifetime, the artist enjoyed retrospectives at the Louvre and the Kunsthalle Basel. Today, his works are preserved in renowned museum institutions such as the Museum of Modern Art, Art Institute of Chicago, Los Angeles County Museum of Art, and the Pompidou Center in Paris. The Tower of Freedom in Saint-Dié-des-Vosges also houses the «Bijoux de Braque», created by the jewelry designer Heger Löwenfeld from the artist's works.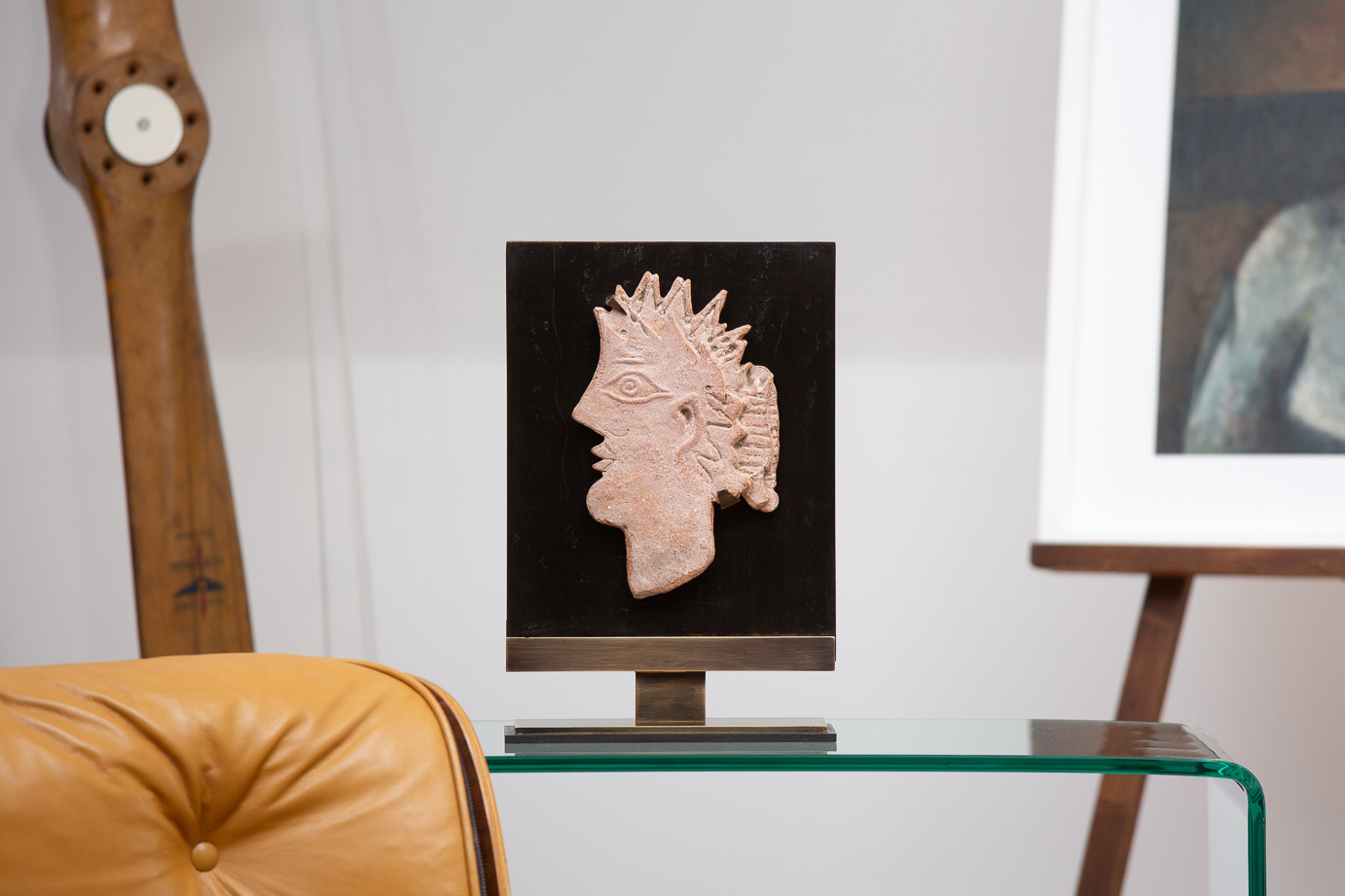 Characteristics
Year: 1940/1950
Origin: France
Artist: Georges Braque
Material or technique: Terracotta
Sizes: 14.5 x 23 cm (Length x Height)
Bibliography
Stanislas Fumet and Jacques Damase, Braque Sculptures, Paris, 1951, illustration of our crenellated head on the cover.
Georges Braque, An American Tribute (exhibition catalogue), Saidenberg Gallery, New York; Perls Galleries, New York; Paul Rosenberg & Co, New York; M. Knoedler & Co, Inc, New York, 1964, illustration of another example n° 28.
G. Braque, sculptures, Adrien Maeght Gallery 1985, p. 11 «Green crenellated head, ceramic 22 x 14 cm» and p. 23 «White crenellated head, ceramic, 22 x 14 cm».
Connaissance des Arts, Richard Meier, N° 401/402 - July/August 1985, page 90.