About
Crenelated Head in ceramic counterproof, celadon and white enamel, signed with the reversed monogram «GB».
Co-founder of the Cubist movement, along with Pablo Picasso, which dominated the early 20th century, Georges Braque (Argenteuil 1882 - Paris 1963) experimented and renewed his artistic practice throughout his career. It was after the Great War that he tried his hand at sculpture. During the winter of 1939-1940 spent in Varangeville in Normandy, he returned to sculpture, working with natural materials such as pebbles collected on the beach. He devoted himself to this art, creating bas-reliefs and round sculptures almost exclusively during the early years of World War II, becoming increasingly figurative.
The ceramic plaque entitled Crenelated Head, executed around the 1940s-1950s, shows a real transformation of the artist's visual research field. He no longer deforms his characters by the fragmentation of volumes or by curvilinear lines, but his Crenelated Head offers a simple and elegant composition, thus adopting new languages. His human sculptures are always heads in profile, just like the figures depicted in the paintings of ancient Egypt. His characters are inspired by Greek mythology, a period he particularly appreciates, especially since 1931, when he worked on the theme of Hesiod's Theogony. Thus, he chose to title some of his works with the names of Greek heroes and gods such as Atalanta or Cephalus. He continued this quest on the Greek theme from 1961 to 1963 with the «Metamorphoses».
Crenelated Head represents the profile of a Greek man. Georges Braque engraves the portrait in white monochrome on a celadon enamel plaque containing a small amount of iron oxide that gives it this green color. On the enameled and translucent plaque, convergent rays emanate towards the portrait, as if to divinize it with an aura. This ceramic is a negative counterproof, with the original model showing the head turned to the left. The proof is a monogrammed GB terracotta and the format is smaller than this negative executed in ceramic.
Georges Braque sculpted several variants of this portrait in various materials and techniques. He also produced many Greek heads in lithography and etching at the same time: Uranie, Hera...
An artisan of matter and accomplished artist, Georges Braque feeds on different mediums: painting, sculpture, pottery, engraving, and even jewelry in collaboration with the jewelry designer Heger Löwenfeld based in Saint-Dié-des-Vosges. During his lifetime, the artist enjoyed retrospectives at the Louvre and the Kunsthalle Basel. Today, his works are preserved in renowned museum institutions: The Museum of Modern Art, the Art Institute of Chicago, the Los Angeles County Museum of Art, or the Centre Pompidou in Paris.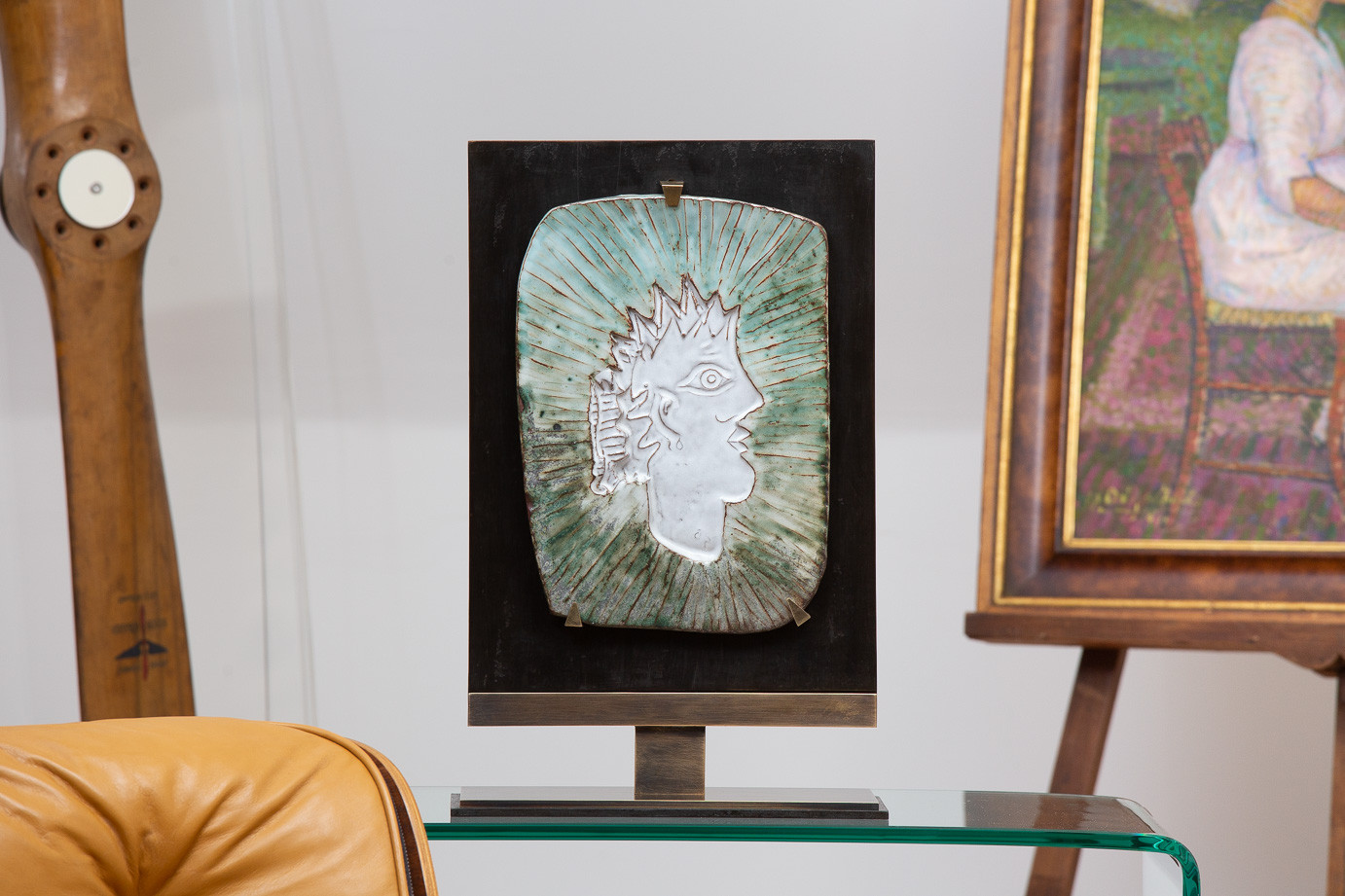 Characteristics
Year: 1940/1950
Origin: France
Artist: Georges Braque
Material or technique: Ceramic
Sizes: 22 x 31.5 cm (Width x Height)
Bibliography
Georges Braque, An American Tribute (exhibition catalogue), Saidenberg Gallery, New York; Perls Galleries, New York; Paul Rosenberg & Co, New York; M. Knoedler & Co, Inc, New York, 1964, illustration of another example n° 28.
G. Braque, sculptures, Galerie Adrien Maeght 1985, p. 26 «Impression tête crénelée, Ceramic, Enamel black and white, 31,5 x 22 cm».
Connaissance des Arts, Richard Meier, N° 401/402 - July/August 1985, page 90.