About
Finely polished dark grey schist sculpture representing a kneeling Telamon, freely inspired by the Greek god Atlas, Greco-Buddhist art of Gandhara. A certificate of authenticity from Mr Jean-Yves Nathan, archaeology expert at the Archaeological Study Center, dated December 20, 2018, will be given to the purchaser.
He is seated with his left leg crossed in front of him, on which his arm rests freely. A garment resembling a dhoti covers his thigh and hangs in folds between his legs. His right leg is fully bent at knee level, with the foot firmly on the ground. His arm, bent at the elbow, is raised behind his head. The muscles of his calves and upper arms are marked and lengthen his powerful and heroic torso, uncovered and unadorned. His bearded head is slightly tilted downwards; his eyes wide open, evoking a thinker lost in his dreams. His thick neck rests on a muscular and well-shaped upper body which distinguishes the shoulders, chest, lower rib cage and waist. He has strong Hellenistic facial features.
According to Pratapaditya Pal, although the figures of the Atlantes are often vaguely identified as «Atlas», they must be distinguished from individuals from classical mythology who were ordered to support the heavens on their shoulders, and are therefore often depicted on temple pillars or narrative panels. The crucial iconographic difference is that the Atlas never has wings and usually supports a globe with both hands. The equivalent of the Gandhara rarely uses both arms and is almost always winged. Moreover, Atlanteans are rarely solitary but are usually in groups. However, the Atlanteans share with the Atlas the common position of supporting structures in the sculpture of the temples. As such, they tend to act in the same way as the yakshas, which they are to all intents and purposes. Referring to the collections of the British Museum, which have been the subject of more recent research, we can date our figure from the 2nd or 3rd century A.D., which may come from a stupa in Jamalgarhi in Pakistan or from Jalalabad, in the valley of the Kabul river in Afghanistan.
By its sculptural quality and the importance of its dimensions, our sculpture is a remarkable example of the productions of the Kushan Empire which was formed at the beginning of the 1st century AD in the territories of ancient Bactria.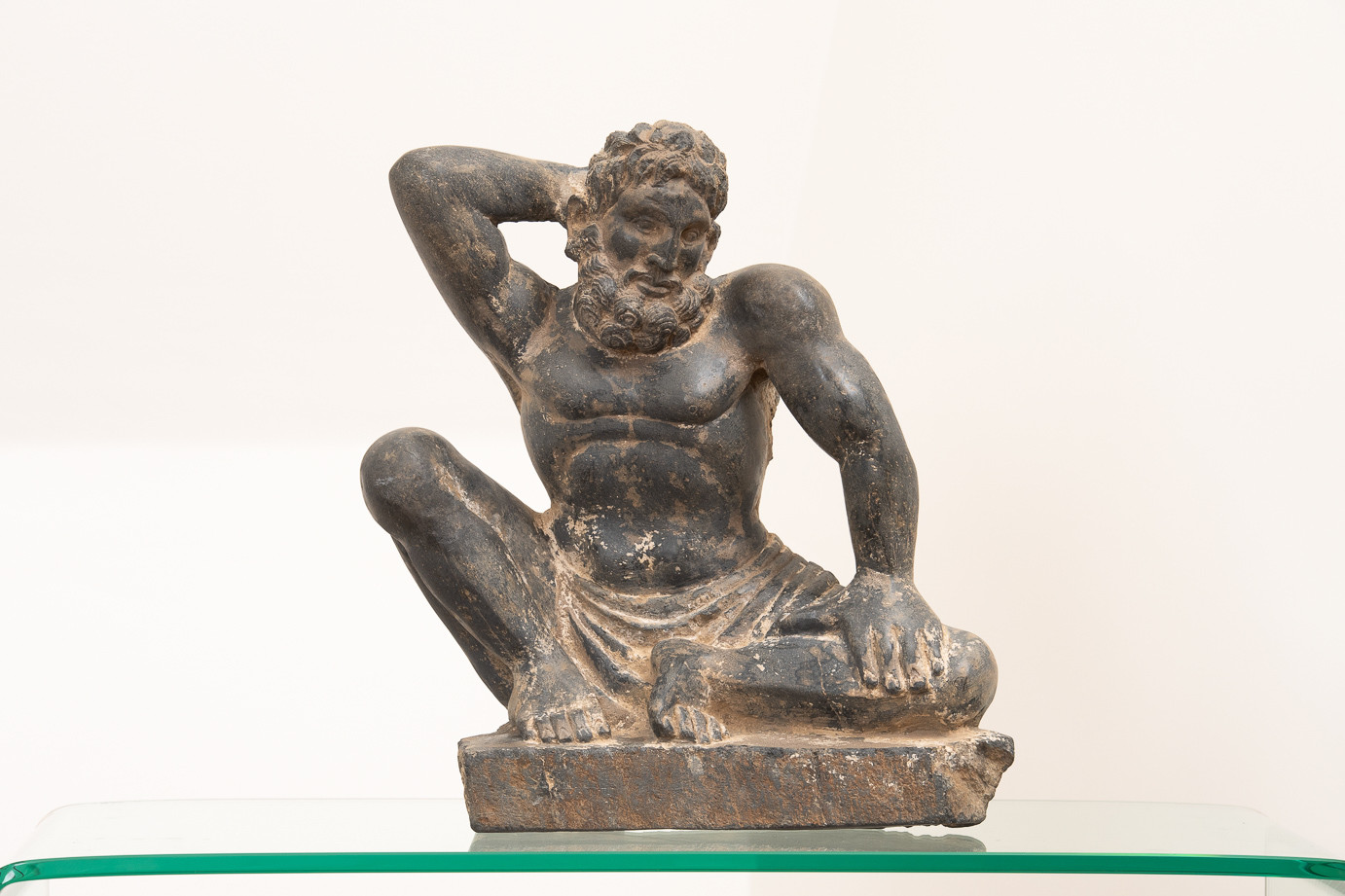 Characteristics
Time: 2nd - 3rd century
Material or technique: Grey schist
Sizes: 45 x 46 cm (Width x Height)