About
Gold medallion setting a very high-quality lapis lazuli cameo carved with the haloed and crowned praying virgin, represented in a bust, hands raised with palms facing outwards. On each side of the virgin's head four letters are written: « MP » on the right and « OY » on the left, contraction of « Meter Theou », mother of God; the name which always designated Mary since the Council of Ephesus in 431.
The octagonal medallion is adorned with four cabochons of lapis lazuli with four cardinal points and patterns of arches punctuated with gold balls on the inner and outer edge thus forming an openwork pattern. On the back of the medallion, there is a cross made with gold thread and a lapis lazuli disc in its centre.
The gold chain is made up of cruciform links. The use of gold thread is a rare technique in Byzantine art, and the sumptuousness of this object invites us to recognize the production of an imperial workshop.
Rant (Latin meaning « to pray ») is the name given to a prayer posture of the early Christians: generally, the body is straight and frontal and the open hands are raised to shoulder height on each side. This composition was used to represent pity on many pagan and Christian sarcophagi during the 3rd century and was adopted on many catacomb figures, both tomb owners and Old Testament figures.
Even if this posture was rare after the 8th century, because prayer was represented by the slanted profile at that time, it was preserved throughout Byzantine art in the forms known as asBlachernitissa and Platytera. The iconographic type of the Virgin seen here is one with the hands raised and the palms facing outward in front of the chest. This is a slightly different version of the more common prayers of the Virgin, usually depicted with the arms raised on each side of the body. This variant also spread in the 11th and the 12th centuries, where it was used for lead seals, wall paintings, and cameo carving.
At the Victoria and Albert Museum in London is exhibited a serpentine disc (museum number: A1: 1, 2-1927) whose representation of the Virgin is identical to our cameo and which may have been closely associated with the Byzantine emperor Nicephorus III Botaniatès who reigned from 1078 to 1081.
This jewel surely came from an imperial workshop at the time of the reign of the Byzantine emperor Nicephorus III Botaniatès.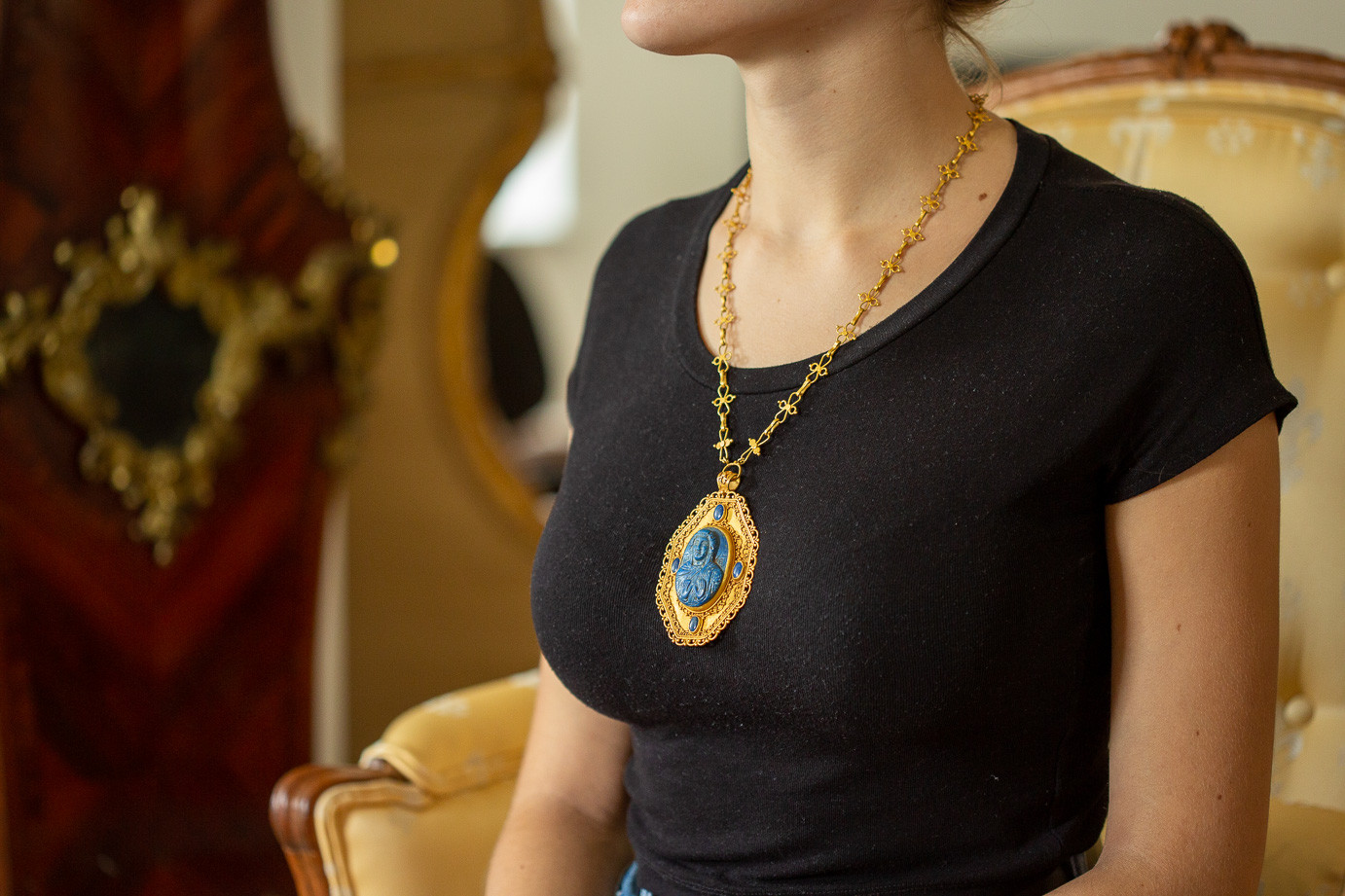 Characteristics
Time: 11th century
Sizes: 5.5 x 8.4 cm (Width x Height)
Weight in grammes: 88.1 g
Provenance
Collection of comte Xavier Martin du Puytison (1915-1998), maritime commissioner and director of the Bank of Syria and Lebanon.
Museography
Victoria and Albert Museum, London, serpentine disc, museum number: A.1:1, 2-1927.
Louvre-Lens Museum, Christ blessing and the Virgin in prayer, Revolutionary seizure, from the treasury of the abbey of Sain-Denis, 1793, MR 95.