About
This Salvador Dali's work, Woman giraffe or "Venus à la girafe", is a bronze sculpture with white patina signed «Salvador Dali» numbered 178/350 to base, foundry man «IARA Venturi arte». A certificate of authenticity from Maître Olivier Marquis, auctioneer, dated Mars 5, 2020 will be provided to the purchaser.
It depicts an abstracted woman presented draped from hips to feet. Her head is positioned on the top of the disproportionally elongated textured neck, thus the designation of giraffe, as to be bigger than the body. This disproportion appears yet as the consequence of the Surrealist Movement in which the artist took part as a direct heir.
On the contrary, classically inspired by the traditional presentation of Venus of the Hellenistic period, the bust is lacking arms and bare-breasted. A long and empty drawer, as we can imagine it according to the handle on its end, extends forward from her stomach below the navel and is held with a detached crutch, together surmounting an integral base.
The Dali art pieces are part of the Surrealist Movement of the 20th century and represent, to use the word of the sculptor, the manifestation of unconsciousness, as it was considered by Freud. Dali was more known thanks to his visual work, sculpture works seemed to him to be a perfect way to translate into reality the manifestations of unconsciousness. According to the sculptor, it was possible thanks to the contract between the material hardness and the unreality of what is transmitted through it. The drawer could be interpreted, as a recurring symbol of Dali works, being a representation of the inside, of its manifestations, especially because it comes from the woman's stomach, the depiction of the origins of life.
The use of the hybrid creature is current for Dali. It allows showing the interpretive power of the dreams in a symbolic framework. In the final analysis, this Venus à la Giraffe catches by its asymmetric configuration and its association of the Surrealism and The Classical Antic Period.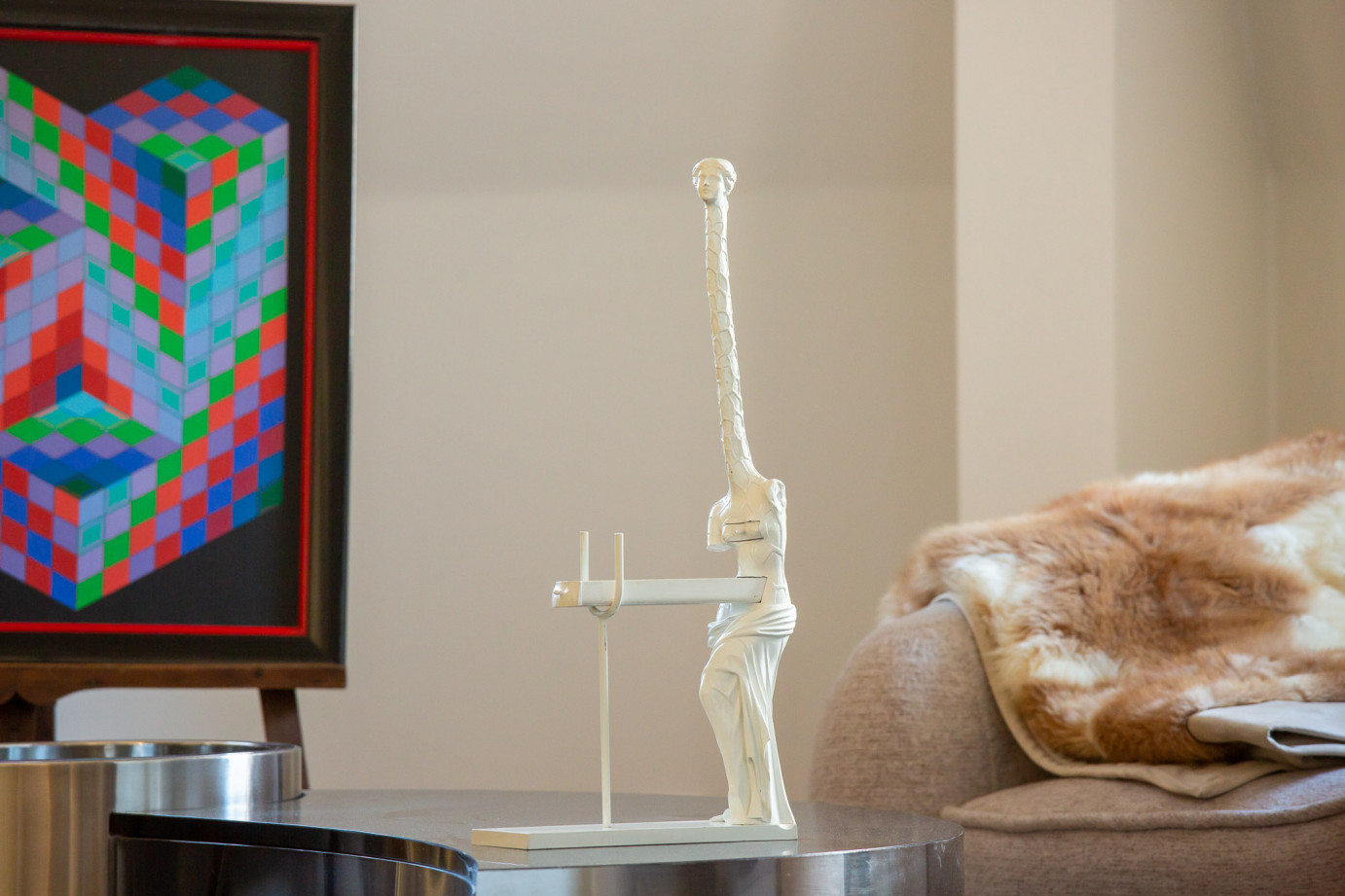 Characteristics
Year: 1960
Artist: Salvador Dalí
Material or technique: Bronze
Sizes: 28 x 56.5 x 9.5 cm (Length x Height x Depth)
Conservation status
A few slight lacks to the white patina
Bibliography
R. & N. Descharnes, Dalí: The Hard and the Soft, Sculptures and Objects, Paris, 2004, no. 69 (another cast illustrated p. 37).