About
This floor lamp made by Piero Fornasetti is part of the «Monete» (coins) series designed in the 1950s and 1960s. Its structure is made of painted metal (lithography and transfer printing) and brass with a gilded brass foot bearing the Fornasetti Workshops label.
Born in Milan in 1913, Piero Fornasetti is a painter, sculptor, interior designer as well as designer and has created more than 11,000 objects in his career. He worked with different materials, in particular ceramics and textiles, and quickly became one of the greatest experts in a series of printing technologies in the world. With the help of his friend and collaborator Gio Ponti, he founded his homonymous and legendary brand, with the aim of integrating art on a daily basis: Decoration is based on the necessity to illuminate things, while enhancing their shapes. When you love a woman, you want her to be well dressed, to wear jewellery; we know that frames help to highlight the beauty of a painting. This also applies to objects. (Piero Fornasetti)
Fornasetti refused artistic fashions and responded with this sharp sense of provocation: «To anyone who asks me for advice on how to learn design, this strange myth from this age, I answer: learn how to draw the nude. It is the only school to learn design. Knowing how to draw like a veteran allows you to structure, project something or an object, a car, a frontiscipe or a book page.»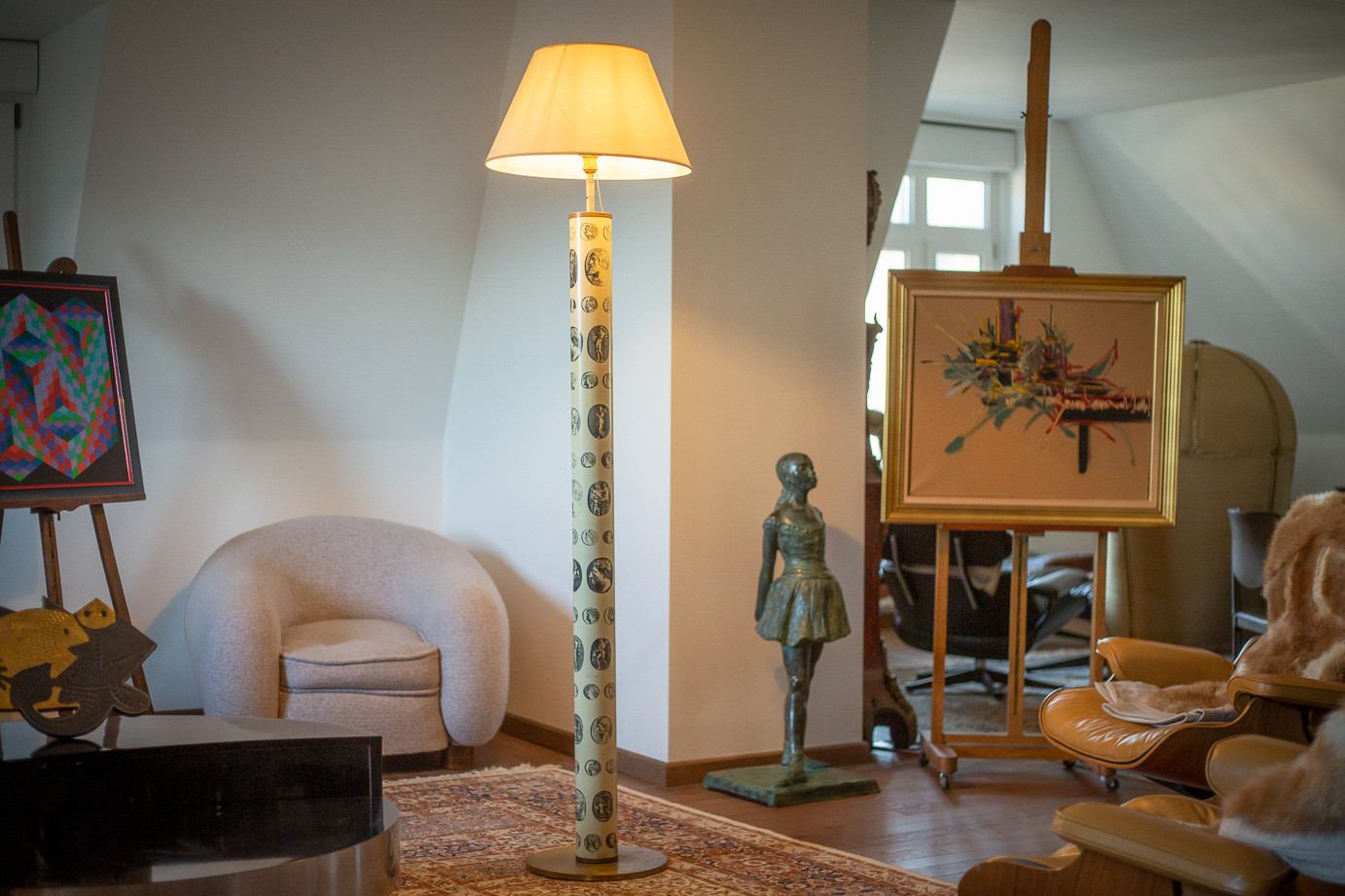 Characteristics
Year: 1950/1960
Origin: Italy
Designer: Piero Fornasetti
Height: 169 cm
Bibliography
Mariuccia Casadio, Barnaba Fornasetti (ed.), Fornasetti. The fantastic Bottega, Electa, Verona, 2009
Lampada da terra serie «Monete», circa 1950/60 in metallo verniciato
La sua struttura è in metallo verniciato (litografia e stampa a trasferimento) e ottone con una base in ottone dorato con l'etichetta di Piero Fornasetti.