About
Ink and colour on paper, the lady seated next to a vase of flowers. Signed bottom left and bores the artist's red seal. A certificate of authenticity prepared by Mister Gerald Markowitz who is a grand-son entitled under the artist and dated November 19, 2019, will be disbursed to the purchaser. Kakemono: 139 x 67, 5 cm.
Lin Fengmian is a painter difficult to avoid in the art history of China. Throughout his artistic life, he tirelessly tried to put together Chinese art and European art, especially the French one. His work proves his deep wish to summarize two pictorial traditions to find a unique and subjective art form.
Lin Fengmian was born at the dawn of the 20th century in China of Qing, the last imperial dynasty before the revolution of 1911. From childhood, he was interested in calligraphy and traditional Chinese painting, which he learned from books. Aged 18, he went to France. As a student of le Beaux-Arts in Dijon and Paris, the young painter was deeply touched by his discovery of Cubism, Fauvism and impressionism. He also visited Musee Guimet where he particularly enjoyed the Chinese section.
When he returned to China, Lin Fengmian was appointed director of the Hangzhou Academy of Arts and president of the Beijing National Academy of Arts. Some of his students, for example, Chu Teh-Chun, would become leading figures of the art of the 20th century in China. At that time, the name of Lin Fengmian was already known by many art-lovers who appreciated his particular construction of a perspective to a vanishing point and vivid colours.
In the middle of the 1960s, shortly before the cultural revolution of Mao Zedong, the artist decides to burn his works by the thousands to avoid political accusations, which included artists and intellectuals. The majority of Lin Fengmian's works disappears in the fire. At the end of the 1970s, the painter went to live in Hong Kong. He would die there 14 years later, the moment where his international reputation was at its best.
The woman is an endless source of inspiration for Lin Fengmian. He liked to portray her in the process of dressing, reading, contemplating a flower, fanning or playing the pipa. Here, the woman is inactive. Comfortably seated on the floor, the palms of her hands facing down, she looks tranquil and peaceful.
The square format is uniting and almost complete. It seems that everything is there, harmoniously arranged in a geometric framework.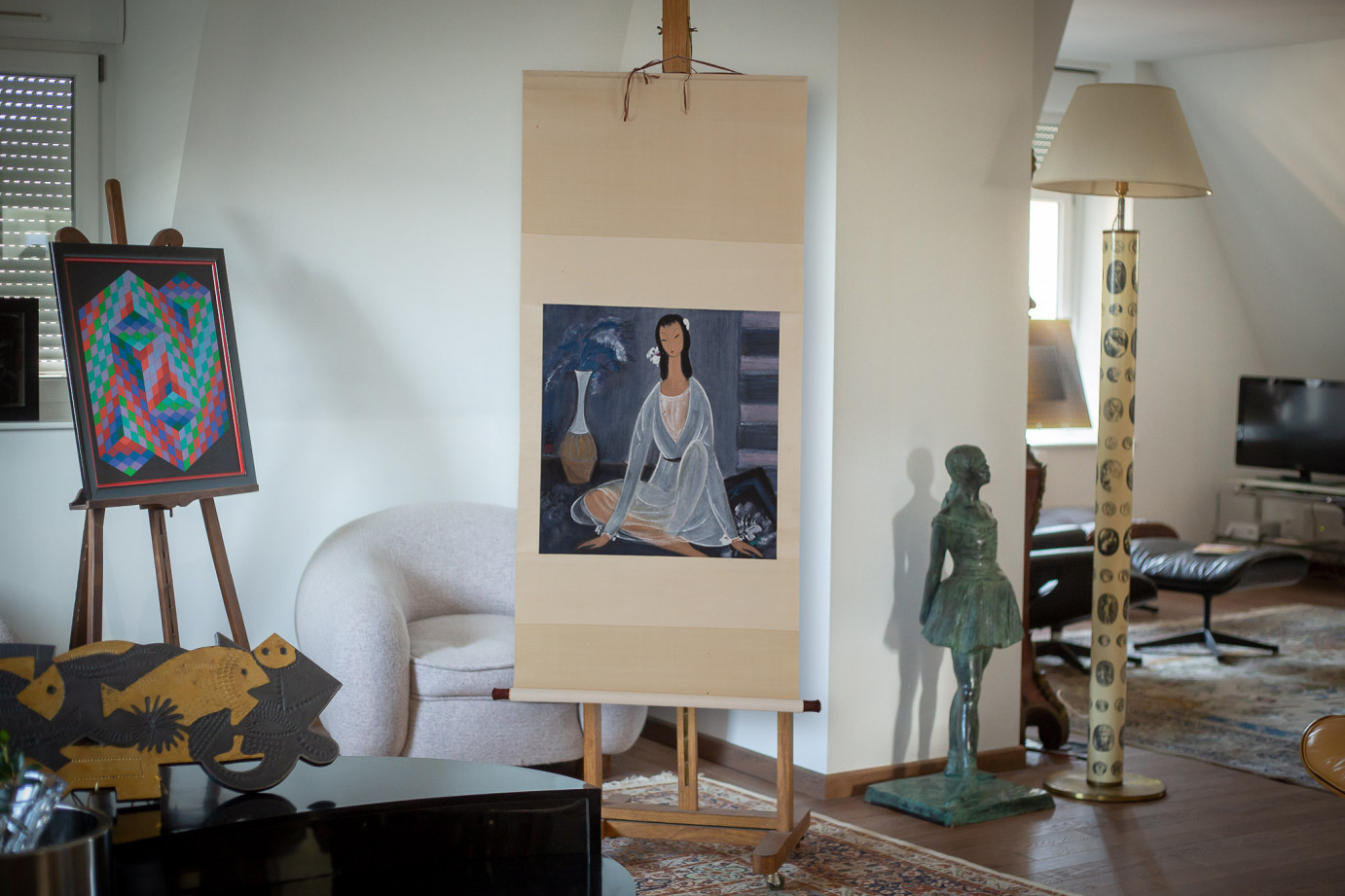 Characteristics
Year: Years 1960
Origin: China
Artist: Lin Fengmian
Sizes: 65 x 66 cm (Width x Height)
林风眠
在纸的全色墨水,供以座位的女孩。在左下方签名,再加上艺术家的红戳。 由Gerald Markowitz先生于2019年11月19日签署的真实性证明书(孙子和该艺术家的权利持有者)将被授予买方。
尺寸:65 x 66厘米(宽x高)