About
Important wooden desk, gold and silver patina opening with 2 drawers signed «G. Braque» and numbered 15/75. A certificate from Mr. Armand Israël will be given to the purchaser.
The certificate mentions: «The Pelias and Nélée desk, made of wood, gold and silver (170 x 90 x 75.5 cm), numbered 15/75, comes from an original gouache signed Georges Braque (1962) and reproduced on pages 31 and 58 of the book Les Métamorphoses de Braque, by Heger de Loewenfelf and Raphäel de Cuttoli, Editions FAC, Paris, 1989. This gouache was used for the poster for the 1963 Louvre exhibition. This work will be included in the received catalog of Georges Braque's work in preparation.»
To date, we have no other copy of this office.
The period of Metamorphosis (1961-1962)
In 1961, Braque realized that as the founder of cubism, he had produced only a few works for the 3rd dimension. This is why the following year, Georges Braque asked his friend Baron Heger of Loewenfeld to free him from this lack and to do so, he created the gouache Hecate, a Greek head that haunts him and asks him to transform it into a jewel, sculpture and ceramic.
As Heger de Loewenfeld explained: «That's how in September 1961, on a damp morning, we presented ourselves on rue du Douanier (now rue Georges Braque). During a memorable four-hour conference, he explained to me that, since he had no interest, when he was travelling in the Louvre, only for Greek-Egyptian antiquities, he worshipped the object because it was to space what music was to silence... ». And Braque added: «It is not enough to show what you are painting, you must also have it touched.»
Georges Braque's fourth period, «Les Métamorphoses», had just begun.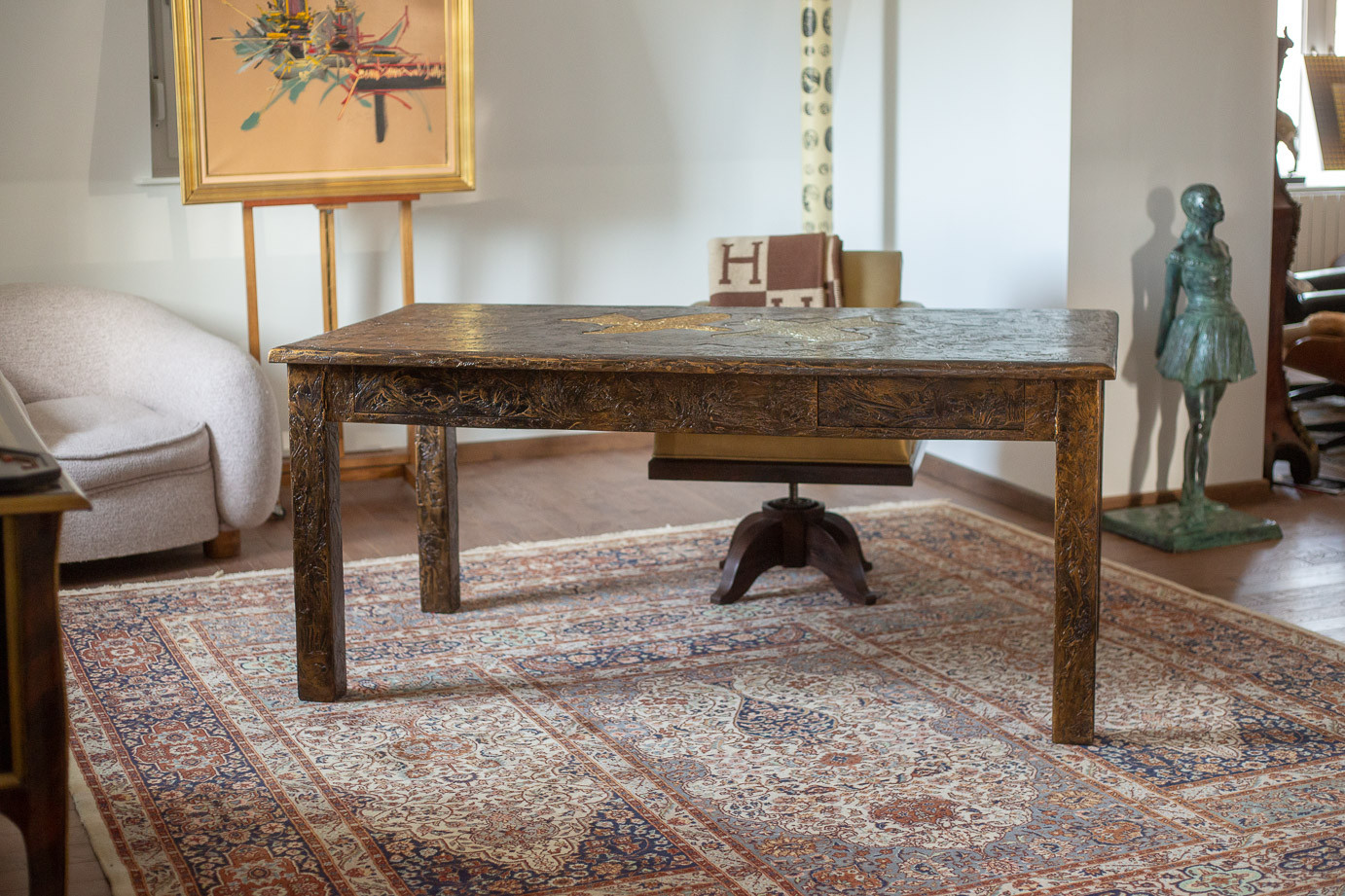 Characteristics
Year: 1970
Origin: France
Artist: Georges Braque
Material or technique: Varnished Laquered wood
Sizes: 170 x 90 x 76 cm (Length x Height x Depth)
Conservation status
Perfect condition
Bibliography
This table desk is based on an original gouache by George Braque from 1962 reproduced on pages 31 and 58 of the book «Les Métamorphoses de Braque», by Heger de Loewenfeld and Raphaël de Cutolli, Editions FAC, Paris, 1989.