"
About
This pair of silver-gilt candelsticks rest on a base with cut-out contours. The ocean-themed base is also decorated with conchs and volutes. Its barrel is made up of a male figure in a fur gown, covering his mouth with his left hand, and holding a cup or purse in his right hand.
The binets show the base background as a reminder. They are engraved with a Crest and show a lion holding a standard with a crown (Duke of Marlborough) and a medallion bearing the motto of the order of the garter «Honi soit qui mal y pense» (King George III or IV). London, 1840-1841. Letter E.
Goldsmith Robert Garrard II made one of the two candelsticks. He stamped it at its base and on the binets.
In 1818, Robert Garrard II (1793-1881), son of Robert Garrard I, took over his father's work with help from his two brothers, James and Sebastian. The shop was renamed R.J & S Garrard until 1835 when it became R & S Garrard because of James' withdrawal from the business.
Over the course of the 19th century, the Garrards' shop experienced an economic boom until a peak in 1843 when Queen Victoria named it the Crown's official jeweler house succeeding to Rundell Bridge & Co. They started making silver coins and jewels for the royal family including the crown for King Edward VII's consecration (1841-1910).
In 1848, Robert Garrard II created the legendary ewer of the America's Cup trophy.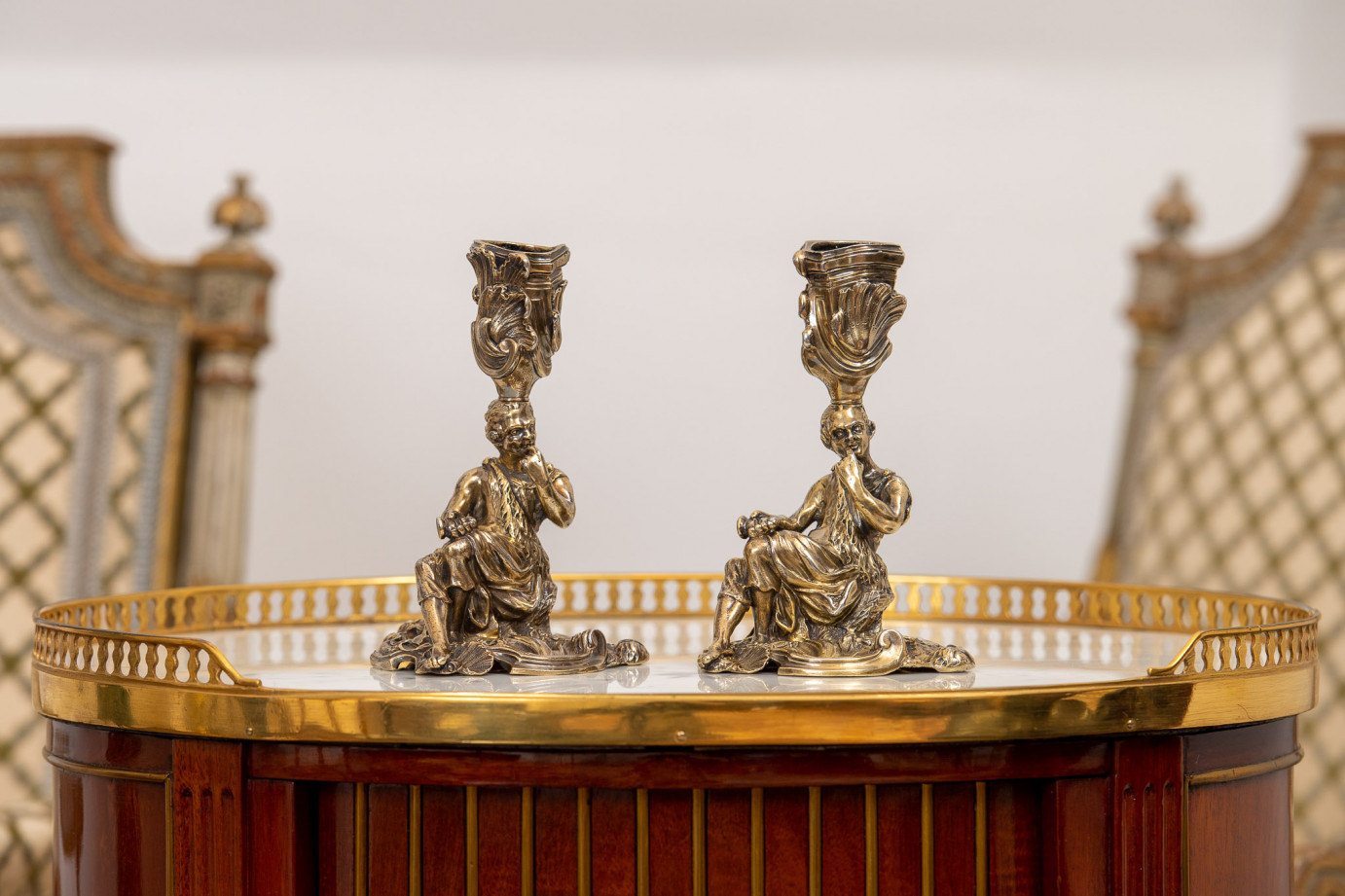 Characteristics
Year: 1840-41
Origin: England
Goldsmith: Robert GARRARD II
Material or technique: silver-gilt
Height: 16 cm
Provenance
Collection Pierre Combescot (1940-2017), French journalist and writer.
Conservation status
Perfect condition
Bibliography
Similar model reproduced in "The collector's dictionnary of the SILVER and GOLG of Great Britain and North America" Michael Clayton.
Museography
The work of R.J & S. Garrard has appeared in several exhibitions including the 1851 World Exhibition in London.